This week The Private Clinic featured in the Mail Online in connection with a new type of Volume Enhancing Facial Treatment that is currently making waves in the UK.
The facelift in question, which has affectionately been coined 'The Organic Facelift' by our doctors, is a minimally-invasive 2 in 1 treatment that helps to plump up facial volume using fat removed from body areas where the fat is readily available.
During the 'organic facelift' procedure, fat is harvested from bulky areas of the body, such as the abdomen, thighs or bottom via VASER  liposuction and it is then purified, and re-injected into the face as a natural volume-enhancing filler. An added benefit of using your own fat is that the stem cells found in the harvested fat are known to enhance skin quality and rejuvenate skin, making it thicker, smoother and brighter – just like that of younger skin.
The two-in-one benefit of a slimmer frame and fewer lines without the aid of synthetic fillers, will no doubt come as an added bonus for many patients!
Cosmetic experts at The Private Clinic, Dr Alberto Di Giuseppe and Dr Dennis Wolf, recently performed the organic facelift on 57-year-old Rosetta Cisson. Rosetta had been having fillers and Botox for years, but was looking for something more permanent. When the Organic facelift was mentioned to her, Rosetta jumped at the chance to have a treatment that was safe, while offering longer lasting results.
Rosetta says of her decision to have the organic facelift:
'My appearance has always been important to me, but recently I've been unhappy with the way my face was ageing. I'm naturally slim and as I've got older, it has become increasingly gaunt. I work with luxury products and the saying is: "They don't just buy jewellery, they have to buy you first." In my line of work, I'm competing with women in their 20s and 30s, so it's important for me to stay looking as good as I can.'
The procedure lasts 90 minutes and is performed under local anaesthetic, during the facelift a surgeon makes four or five 1mm to 2 mm incisions on each side of the face, and using a fine, blunt-ended needle, creates tiny tunnels deep in the muscles. The harvested fat is deposited into these tunnels, filling out gaunt cheeks, hollows under the eye and at the temple, all of the places where men and women begin to lose volume and show the signs of aging first.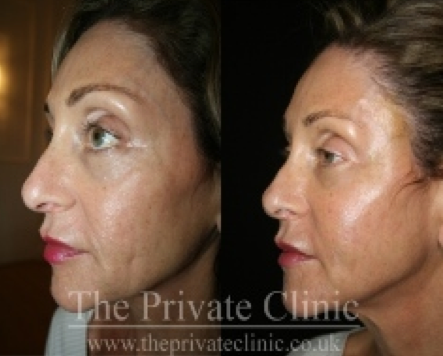 Commenting on the procedure, Dr.Di Giuseppe says:
'Demand for the 'Organic Facelift' has risen by more than 30% in the past year. As we age, we naturally lose fat from our faces, so it's perfect to plump things back up again. Women may think they need a surgical facelift, but simply replacing lost fat can easily restore a youthful look.'
To find out more information about the procedure, visit our website.