Maggie, a patient care specialist from London, wanted to refresh her face with a dermal filler treatment.
As a healthy, active woman in her mid-thirties, she is generally happy with the quality of her overall face. However, she wanted to give her face a boost by lifting the skin around her cheeks and chin. With facial contouring in mind, she wanted to craft more graceful and sculpted contours across her face from both a side and frontal perspective.
Her primary goal was to enhance her facial proportions by improving her own natural curves and contours. At the same time, she wanted to make her skin soft, plump and youthful-looking in the process.
Maggie's Facial Rejuvenation Journey
With these beauty goals in mind, she reached out to Dr Hanson Yu, a renowned dermal filler clinician at The Private Clinic with years of experience in facial rejuvenation. With ample experience in facial contouring, he explained how Maggie could balance out her overall facial profile with dermal fillers.
After discussing Maggie's concerns during a consultation, he recommended the placement of revitalising fillers across her cheeks, jawline and chin. This would streamline the shape of her face while bringing definition to her natural contours.
Here, Dr Hanson summarises this strategic approach:
"We are going to use fillers to give greater projection to the chin to balance out Maggie's facial profile. The treatment is all about profile balancing – creating chiselled cheeks and improved jawline definition."
Dr Hanson's Recommended Treatments
Dr Hanson added volume to Maggie's short chin and cheeks to improve definition. He also sprinkled filler across Maggie's face to smooth out imperfections like laughter lines, nasolabial folds and malar groves.
Mid-face Fillers
Dr Hanson's strategy across Maggie's mid-face area was to replenish lost volume. He applied cheek fillers to make Maggie's cheekbones stand out while reducing cheek folds and slightly sagging skin. He also addressed the appearance of grooves that had started to appear in between Maggie's eyes and chin. Depressions known as 'malar grooves.' Dr Hanson replenished lost volume along the grooves to bring back plumpness and freshness to Maggie's mid-face area.
Nasolabial Fillers or nose to mouth lines
Maggie's smile lines were then smoothed and reduced with filler. Also known as laughter lines or nasolabial folds, these deep creases are caused by the continual strain that facial expressions place on our facial tissues. By restoring moisturising hyaluronic acid into these folds, Dr Hanson was able to reduce their appearance to give Maggie a more youthful aesthetic.
Chin and Jawline Fillers
Addressing Maggie's key area of concern, Dr Hanson then focused his attention on Maggie's slightly depressed pebble chin. He sought to smooth out uneven skin texture in this area while adding volume and structure back to the chin, jawline with chin fillers to make it project in a more angular and defined way.
Maggie's Dermal Filler Results
After completing the filler injections, Dr Hanson explained how he utilised the volumising and strengthening effects of dermal fillers to optimise definition across the already naturally beautiful areas of Maggie's face.
Dr Hanson explains the results:
"We created a natural definition for Maggie's cheeks, restored the look of her anterior cheeks by addressing volume loss, and created a lift for her mid-face. Meanwhile, we softened her nose to mouth lines while using strong fillers for her chin area to give her a smoothly defined jawline as well as a very natural, subtle chin projection."
Before and After Photos – Maggie
Side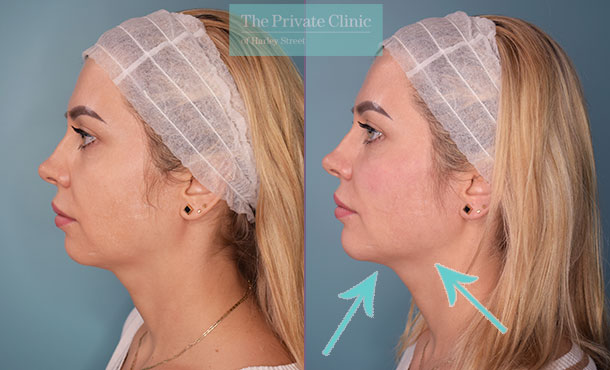 Maggie loved the immediate results of the visual improvements:
"I am really happy with my final results, as my cheek folds look instantly fuller and more replenished, and my chin looks sculpted and defined. I also found the treatment more comfortable than I initially expected. On the day of my treatment, I had no pain and I was able to return to my normal activities straight away."