See how you look : Breast augmentation 3D simulator
BREAST AUGMENTATION AND ENLARGEMENT
Home » See how you look : Breast augmentation 3D simulator
Covid has recently meant a huge reduction in face-to-face consultations with our surgeons. The majority of them have now moved to virtual consultations but it is always difficult to offer the same level of service over a video call than what would usually be carried out in a consultation in clinic.
This is where Crisalix comes in. Mr Adrian Richards has been using Crisalix, a breast enlargement simulator in his consultations for many years now. It is a great piece of software that allows patients to essentially 'try on' their breasts and see how they look before committing to surgery.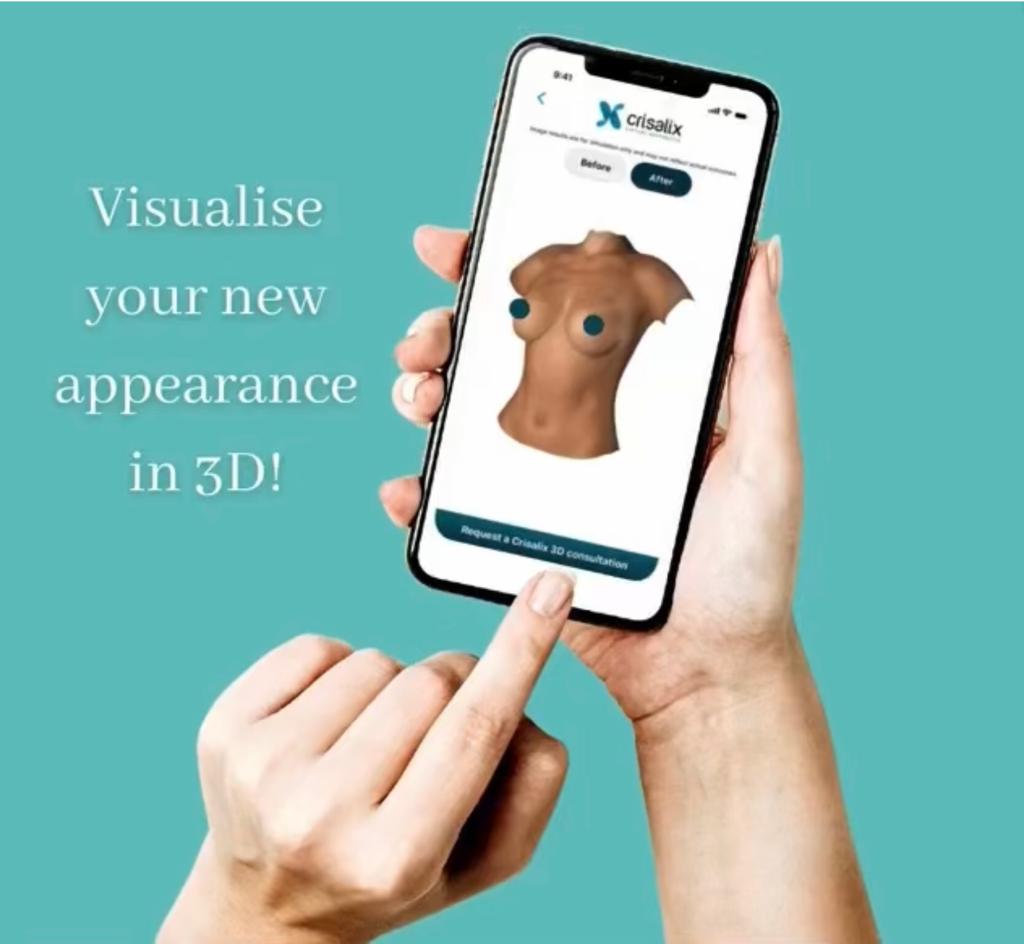 How does the breast implant simulator work?
Using a special link that is unique to Mr Richards at The Private Clinic, potential breast enlargement patients are now able to upload photos and have a variety of 3D images with different breast implant sizes, shapes and profiles sent back for them to look through.
Arriving at the link you will be asked to enter your email and create a password. Please use an email that you check regularly as this will be your contact point.
Once in, select 'Create your 3D' and a helpful video will appear. It shows you how to complete the first step which is to measure the distance between one nipple to the other.
The next step is to upload your photos. It is really important that these photos are taken well to ensure that your 3D image can be created.
We recommend:
Getting someone else to take the photos or using a tripod/phone stand and self-timer mode.
Taking photos in a well-lit room with natural daylight as the main source and avoiding shadows.
Standing against a plain wall.
Focusing on the torso; so cropped in from your shoulders to your hips – no need to have your face and legs/feet in the photo.
Once your photos have been submitted you will receive an email from The Private Clinic Co-Ordinators. They will confirm that your images have been received by Crisalix, and if you have not left any notes about your desired outcome then they will ask you general thoughts on how full you wish your breasts to look post-surgery.
See your 3D breast augmentation results in 7 days
The majority of patients then receive their Crisalix images within 7 days. You will get to see 3 images showing a small, ideal, and large size of implants based on your desired outcomes so you can see a variety of options. You may also receive a 3D video that will show how your breasts may look when you are walking, lying down, and jumping which can be really helpful for many patients.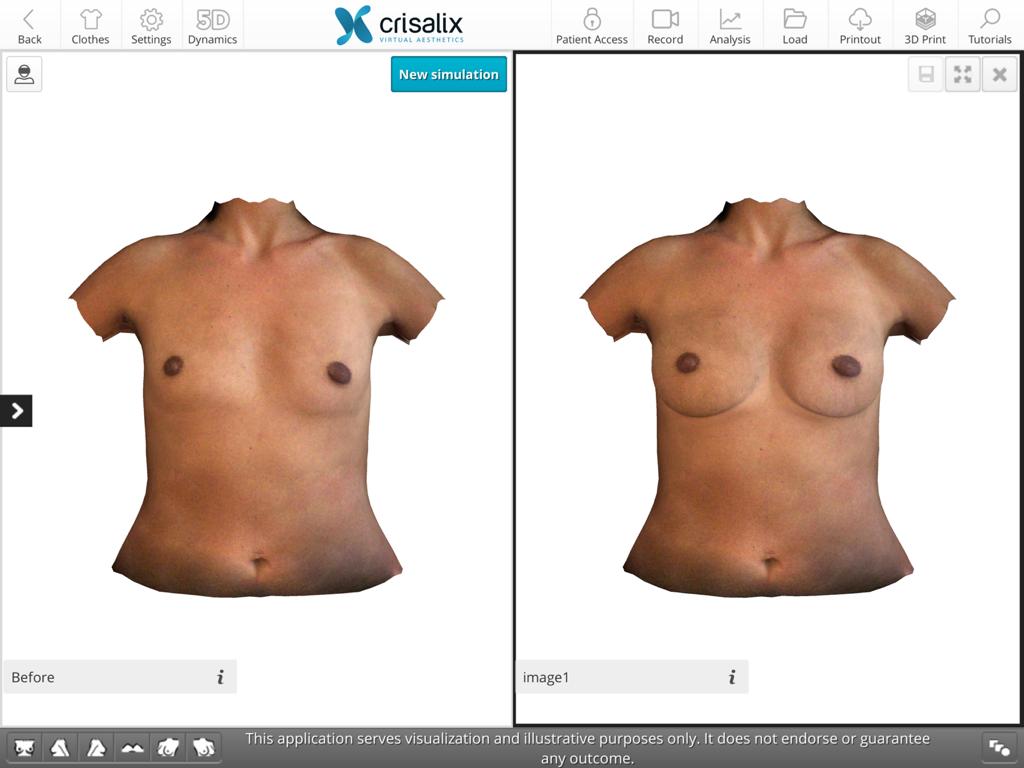 Is Crisalix 3D platform secure?
Crisalix is a secure platform meaning your image is stored safely and securely whilst the 3D image is created. You can read Crisalix's security statement and privacy policy here.
Next steps, See the results and book the consultation.
Once you have had your 3D scan and have decided on an image that you like best then depending on where you are in your breast augmentation journey, you will have a variety of options. Some patients decide to have their scan before their initial consultation with Mr Adrian Richards so in this case patients will keep hold of a copy of their image which they can then discuss with Mr Richards at their scheduled virtual appointment time. If you have already had a virtual appointment, then your next step is likely to be to have a consultation at one of our clinics to discuss your options. If you are still undecided then this is a great time to sit and think everything over, do some more research and have your images as reference to look back-upon until you are ready to proceed to the next stage.
Patient feedback has been very positive
"Thank you so much for doing this for me. I have just looked and I love the second picture which is the middle size. I think they look so good and would suit my frame. All very exciting!"
"Wow it's so clever and gives you such a great impression of what they may look like!"
If you would like to see the results for yourself simply click this link, follow the instructions and you will be contacted by Mr Adrian Richard's clinic co-ordinator confirm your desired outcomes from surgery.
To find out more about the Crisalix watch our video below.
Why Choose The Private Clinic for a Breast Augmentation?
With over 35 years of Harley Street medical excellence, we are committed to providing patients with the very best cosmetic treatments. The only patients we allow to go ahead with a treatment are those who are fully informed and knowledgeable; we believe it is important to outline your risks, recovery, and full cost information from the start. Your story is individual to you, we are here to make sure your breast enlargement procedure is too.
Why The Private Clinic is the right choice for you with the best cover:
We provide a 10-year warranty with £1000 towards your surgical costs.
Expert Cosmetic surgeons, see our before and after results here.
Dedicated post-operative care and appointments with your surgeon and nursing team, including a 24-hour help line.
Peace of mind with our personal three-year aftercare breast cover.
The Private Clinic covers a lifetime guarantee on your implant.
We have state of the art hospital facilities.
Giving you the best results and patient care is our priority we have a 5-star Trust Pilot rating.
To find out more about Breast Enlargement surgery at The Private Clinic, contact us on 0333 920 2471 or use our online breast implant contact page to receive a call back.