Thinking about liposuction? Exploring patient before and after photos is an all-important part of your research. Understand what kind of results could be realised for you and learn what type of outcome different forms of liposuction could achieve. At the stage of researching liposuction clinics? Patient photos can indicate what kind of results may be realised with different clinics.
To help you on your way, we've accumulated before and after photos across a spectrum of popular liposuction procedures, along with useful need-to-knows about each treatment. All liposuction treatments are used to remove stubborn areas of fat, but involve different techniques and extents of body sculpting.
Vaser Liposuction Before and After Photos

Advanced minimally invasive body sculpting and liposuction treatment
Walk-in-walk-out treatment performed under local anaesthetic
Minimal downtime, most patients can return to work in 1-3 days
Stimulates collagen production
Areas of target include: Thighs (inner and outer), Stomach/Abdomen, (Bingo Wings), Back, Chest, Buttocks crease, Flanks, Arms, Knees and male chest (gynecomastia)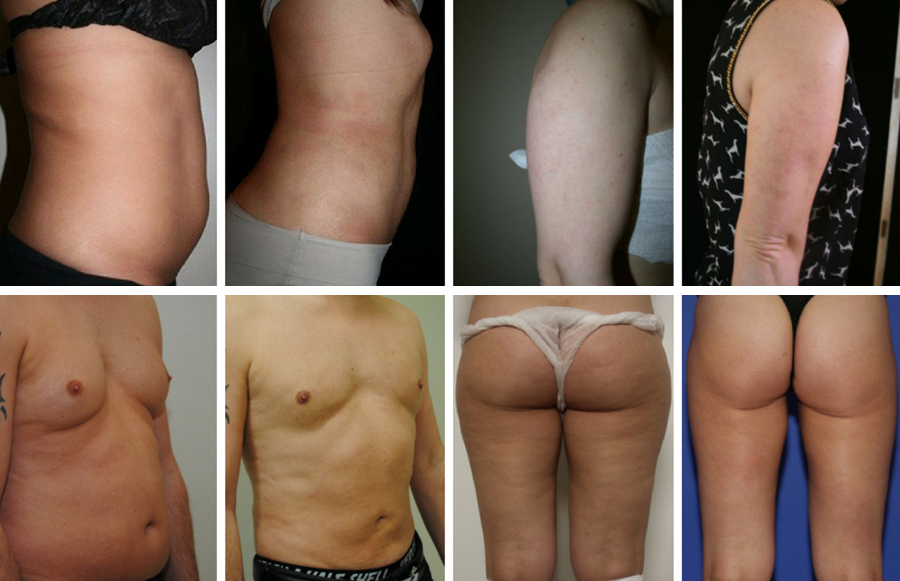 In addition to Vaser Liposuction, our portfolio extends to specialised vaser treatments, including Vaser Hi-Def, Vaser Mid-Def, 360 Leg contouring and 4D Liposculpt, which offer varying levels of definition and contouring.

To learn how vaser liposuction works, see further vaser liposuction before and after photos, and more, visit our vaser liposuction treatment information page.
If you're interested in the procedure, we provide Vaser Liposuction consultations with our industry leading vaser surgeons in Harley Street London. We also offer patient coordinator consultations in Manchester, Leeds and Birmingham, where we can provide more information about the vaser liposuction procedure. If you would like to arrange a Vaser Liposuction consultation please call us on 0333 920 2471 or you can do so via our website. All Vaser Liposuction procedures will take place in our boutique hospital in Fitzroy Square, London.
Vaser Liposuction surgeons
Dr Dennis Wolf, BSc (Hons), MBBCh, MRCS, DO-HNS, GMC Number: 4773959
Mr Philip Lim, BSc (Hons), MB ChB, AFRCS (Ed), MRCS (Eng), FRCS (Plast), GMC Number: 4219068
Mr Michael Mouzakis, M.D., MSc, GMC Number: 7237640
Micro Liposuction Before and After Photos
Body sculpting technique particularly effective at targeting smaller bodily areas
Minimally invasive, performed under local anaesthetic
Return back to work within 2 days
Areas that can be targeted: Abdomen, Inner Thighs, Knees, Flanks, buttocks crease (banana fold) and Male Chest (Man boobs or Moobs)
For more micro liposuction results, the answers to micro liposuction FAQ's, and understand about how micro liposuction works, visit our micro liposuction information page. Our Micro Liposuction surgeon consultations and procedures are available with our expert surgeons Mr Roberto Uccellini and Mr Michael Mouzakis. To schedule a micro liposuction consultation please call us on 0333 920 2471 or see our website.
Surgical Liposuction Before and After Photos

For patients wanting or needing surgical intervention
Candidates are typically larger patients with a higher BMI
More downtime than Vaser and Micro Liposuction
Can be performed on any bodily area – buttocks crease, hips, chin, upper arms, thighs, abdomen/ stomach breasts or knees – provided the candidate is eligible for treatment

Find out more, including access to further Surgical Liposuction before and after photos on our surgical liposuction webpage. Surgical Liposuction consultations and procedures are available in our clinics in Harley Street London, Birmingham, Leeds, Manchester and Northampton. Consultations can be requested online or by calling 0333 920 2471.
The Private Clinic
Awarded Best Cosmetic Surgery Practice UK at the MyFaceMyBodyAwards 2018, we offer the industry's top liposuction doctors, who are pioneers within their respective field of Body Sculpting, Liposuction and Fat Transfer. We are proud to be the UK's leading provider of Vaser Liposuction, and our doctors are responsible for undertaking the highest amount of minimally-invasive liposuction treatments in the UK.
For over 34 years, we have been helping patients' look and feel their best and are proud to have achieved a 5 star rating from our patients on Trustpilot.
"Absolutely fantastic! I had VASER Lipo 2 days ago now and everything went amazingly. The staff were fantastic. Dr Wolf made me so comfortable, everything was organised and professional from start to finish. Steve was on the ball 24/7 making sure I had everything I needed before the procedure. He was quick to reply to my emails and queries. I was very anxious about having this done and they were all so reassuring and so right. I didn't feel any pain during the procedure and now I'm just a little sore, that's it! I can't wait to see the final results but I can already see a massive difference. The day after my op I was contacted to make sure I was fine and again today! I feel very supported in my journey Thankyou!" Kirsty, Vaser Liposuction patient
'… The whole experience has been amazing! I was seen and treated very quickly, which was exactly what I was looking for. Every member of staff that I interacted with was professional and courteous. Dr Wolf did an amazing job on the surgery, my body looks and feel so much better and has helped so much with self confidence. Cannot recommend highly enough! Worth every penny!' Jon, Vaser Liposuction patient
Find out more about our portfolio of liposuction treatments on our website. To arrange a consultation please call 0333 920 2471 or use our online contact form.