FUE Hair Transplants are always steadily rising in popularity and the normality of it also is increasing thanks to the likes of celebrities such as Wayne Rooney, James Nesbitt and Calum Best who have all admitted going through hair transplant procedures to improve their declining hairlines.
Despite this, the knowledge around Hair Transplants, in particular FUE Hair Transplants is limited with many of us not really knowing how or even why an FUE Hair Transplant works.
Here at The Private Clinic, providing you with plenty of information about all the procedures we offer is our priority and in our blog today we are going to cover how an FUE Hair Transplant works and briefly what is involved within the procedure, but we have plenty more information on our website and videos that cover this in more detail too.
FUE Hair Transplant
An FUE Hair Transplant is also known as a follicular unit extraction transplant and involves taking individual hair follicles from a donor area, usually the back (or side) of the head.  The individual follicles are then implanted back into the balding areas on the head.
How does a FUE Hair Transplant work?
An FUE Hair Transplant works by being able to remove only the healthiest and most robust of individual hair follicles from the donor area which is most typically the back of the head, sometimes the sides.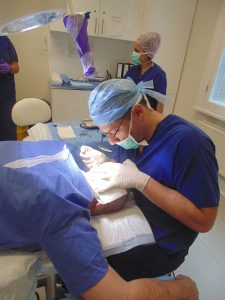 These donor hair follicles are then transplanted one by one back into the balding areas (of the scalp for example) that are being treated. At The Private Clinic our surgeons are highly experienced in creating the most natural looking results by carefully placing the follicles at the same angles and in the same directions as your natural hair growth.
FUE Hair Transplants have a very high success rate as each individual hair follicle is taken from areas of the scalp where there is healthy and permanent hair growth. Donor hair is often taken from the back of the head which is an area of the male scalp that is resistant to DHT (Dihydrotestosterone) which is the usual cause of balding in the front and crown of the head – also known as male pattern baldness.
When the DHT resistant hair follicle is placed in the new area, it still retains this element meaning your new hair growth should remain permanent unless it was genetically meant to fall out.
The transplanted hairs also successfully root in your recipient area as it is your own hair. There is a common misconception that hair from another will be used and this is certainly not the case.
Why choose The Private Clinic for an FUE Hair Transplant? 
Minimally invasive treatment, carried out under local anaesthetic.
We use the finest instruments, resulting in as minimal trauma to your scalp as possible.
Highly experienced Hair Transplant Surgeons who have many years of experience in FUE (Follicular Unit Extraction) and treat hundreds of patients every year.
No stitches are required after treatment meaning recovery time is reduced compared to Strip (FUT) surgery.
Our advanced skills, methods and techniques mean results can be undetectable.
Minimal scarring post-surgery means you'll be free to wear your hair long or short afterwards.
We ensure that only the strongest, healthiest follicles are selected for your transplant procedure by working by hair, not per graft.
Hair is implanted in the direction that matches your hair growth meaning your results will look natural, with denser packing.
24 hour patient helpline.
Comprehensive patient information.
Outstanding clinic facilities.
Excellent reputation for patient safety and satisfaction, honest advice and outstanding care means your journey with The Private Clinic will be an exciting experience to a newfound head of hair.
Our surgeons are the only surgeons in the UK offering the Unshaven Hair Transplant (U-FUE) to those who prefer not to shave beforehand. At your consultation, we will be able to advise you on whether an unshaven procedure is suitable for you.
View our before and after results gallery
Find out more information in our blogs
Read our extensive FAQs
Hear from previous Hair Transplant patients in our patient stories and videos
Our Hair transplant consultation and treatment clinics are located in London Harley Street, Birmingham Manchester and Leeds but we also have a consultation clinic in Northampton.
Hair Transplant Surgeons at The Private Clinic
To book a consultation or get some more information on hair transplants please call 0333-920-2471 or use our hair transplant online contact form.