At The Private Clinic, we have just two key focuses; your satisfaction and your safety. With over 30 years of cosmetic medical experience behind us, we've established ourselves as a respected and trusted provider of aesthetic treatments, and we're keen to never let that reputation slip.
However, not every clinic shares the same driving force and more people are beginning to think of ways to prevent immoral or inappropriate treatments taking place. Katie Price (AKA Jordan) made headlines a couple of weeks ago for suggesting the age of non-medical treatments should be raised to 21, while The Medical Board of Australia believe a compulsory 'cooling off' period between consultation and treatment could avoid people being pressured into poor decisions.
We asked a few of our followers on social media what they thought about the two options – their answers are below.
Should the age of cosmetic surgery be changed to 21?
Katie Price's name is synonymous with cosmetic surgery and aesthetic treatments. The former glamour model turned media personality famously had several breast surgeries to take her from a 34B to a 34FF at the age of 19, followed by several other surgeries including liposuction on her hips and thighs, fat implanted into her lips to boost her pout, and a nose job – as well as an eventual breast reduction in more recent years.
However, despite going through multiple procedures herself, Price recently told The Independent that if she were Prime Minister the first thing she would do would be to raise the age of surgery to 21. "External pressure on young girls growing up today results in too many turning to surgery at a very young age…Like all procedures, cosmetic surgery carries risks, and they are risks that you are better equipped to understand at 21".
Would this help solve the problem? We asked the question on our social media accounts and got some incredibly good thoughts for both side of the argument:
@Xx_leanne_xx26 on Instagram said "for girls who are really flat chested by the age of 18…why should they have to wait? But if it's something they're just having it done for the fun of it…then yes they should be denied it", while @xnina88x believed 21 was a good age, explaining"Your body has fully developed by this age. Therefore a decision can be made to correct any flaws you feel you have"
Meanwhile on Twitter, @tsunimee  said "People could still make unfortunate choices at 21. I am divided over the topic…Long time to wait if…desperate to enhance your chest since the age of 16″ later suggesting a compulsory mental health and well-being consultation beforehand could be a better option.
@Martinwalker666 raised a similar point, commenting "what about people with scar-tissue & other problems that would single someone out/affect self-esteem? Some people make these blatant statements – especially since 18 is the age of consent, therefore #Adult".
At The Private Clinic there are some doctors who won't perform certain treatments on those under the age of 21. This is not because we don't trust the decisions of our patients, but simply because not everyone's body has finished developing before the age. We never want to perform a treatment that will leave you unsatisfied, particularly if there's a high chance your body is still changing. However, we like to use common sense and treat patients as individuals – age isn't normally the biggest factor when considering whether to go ahead. It's always about how suitable you are as a patient, and whether we believe the treatment will give you the long-lasting results you desire – regardless of age.
Should there be a mandatory cooling off period?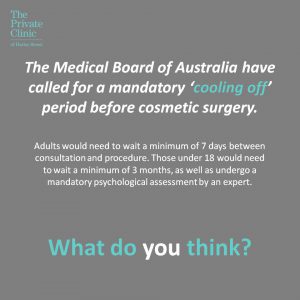 Recent guidelines proposed by The Australian Medical Board propose that drastic changes need to happen in how cosmetic treatments are monitored. The organisation proposed that adults should have a compulsory 7 day wait between consultation and surgery while for those under 18, the wait was increased to 3 months with a mandatory psychological assessment also performed.
This was, again, another question asked on our social media to extremely mixed views. On Twitter Norman Wright from @WrightInitiativ (which aims to encourage patient safety and well-being) commented "I think & feel that it should be mandatory worldwide!". While Instagram user @shayraii replied "Sounds smart. Not to say there is pressure, but you do need to mentally prepare yourself for alterations to your body that will stay for life".
On the other hand, other contributors raised the point of how long many people take to consider a treatment before they even enquire. @Findstevek said "Surgery is a personal journey. If it's taken you personally a long time to decide to go for it, then you've already been through the process in your head. If the surgeon agrees with your choices and you're happy to proceed, then you should be free to do so", something @lindyloo_tci_ba agreed with:"We've normally thought about it and waited months before even going to a consult. Our bodies, our choice".
Should clinics provide more vital information and care?
This is one we firmly believe in, and one we always try to make happen. On all our treatment pages we aim to outline potential risks and downtime, as much as the benefits of each treatment. Likewise our team of doctors, nurses, therapists and patient advisors are all there to help you understand every aspect of a treatment – including how likely it is that you'll get the results you've asked for.
BAPRAS' #ThinkOver campaign is a fantastic initiative to help encourage patients to think about their options before they go ahead. Their dedicated mini-site has real patient stories, as well as guidelines and key questions to ask your surgeons.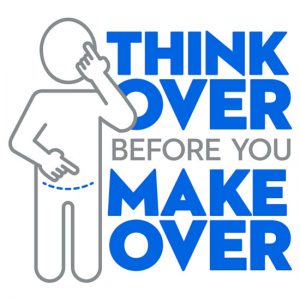 On our own blog we've compiled checklists to take with you to any consultations you attend, as well as information about recovery and healing for you to access – regardless of whether you initially had your treatment with us. We're contactable 24/7, 365 days a year for patients and aim to help every visitor get the care and advice they need, regardless of when we're contacted.
The Private Clinic
We understand it's your body, and we're here to help you feel comfortable in it. We will never perform unethical treatments, nor go ahead with something if we don't believe it will benefit you. The only way you're going to be satisfied is if we're honest from the start and we're proud to value patient happiness and safe results over anything else. You're always an individual, so your treatment should be too. If you're contemplating any form of aesthetic procedure, no matter how small, get in contact to discuss every aspect of it – not just the parts you want to hear. www.theprivateclinic.co.uk