Summer is here and many of us are jetting off on holiday and spending our days relaxing by the pool and topping up our tan (safely of course!) but what if the thought of baring your chest leaves you with a feeling of dread.
Gynecomastia – more commonly known as man boobs – affects around 15% of adult men in the UK and is caused when excess fat or tissue develops in a man's chest area.
A slightly sensitive topic for many men, and one that is often just easier to cover up with baggy clothing then look to enquire about treatment.
But for those that do want to do something about it, before taking the plunge, you'll want to know if you really need Gynecomastia surgery, or there's a chance you can get rid of the problem yourself.
Visiting a local GP or specialist will be able to diagnose you with the real cause of the excessive tissue in this area and best advice you on the next step to take in order to reduce your chest size.
In patients with true gynecomastia, a rubbery or firm mound of tissue that is concentric with the nipple–areolar complex is felt, whereas in patients with pseudogynecomastia, no such disk of tissue is found. It could also be a combination of both, but sorting out the fatty tissue initially is always a good step to take.
If it's mostly fat, improving your diet and exercise will always be a sure way to reduce the problem. I'm sure you will agree that some gym visits and cutting out the takeaways is always going to be more preferable than putting yourself through a surgical procedure.
If you're in shape and still have excess volume in this area, then it is most likely that it's glandular. And this can then be diagnosed as true Gynecomastia.
Glandular tissue is a white, rubbery substance that develops in the male chest and its main causes are;
Puberty
Hormonal Imbalances
Certain medications such as steroids
Drug Use
If your Gynecomastia is glandular, it is common that exercise can actually make the problem worse. This is because your chest muscles get stronger and push out the glandular tissue, making the chest more prominent and 'pointy'.
Here at The Private Clinic we offer three treatments to reduce excess fat on the male chest: VASER Liposuction, MicroLipo and Surgical Liposuction.
Once you have had surgery, the likelihood of your chest area returning to how it was prior surgery is low, this does however rely on you maintaining a healthy weight and avoiding anything that may have caused the issue originally.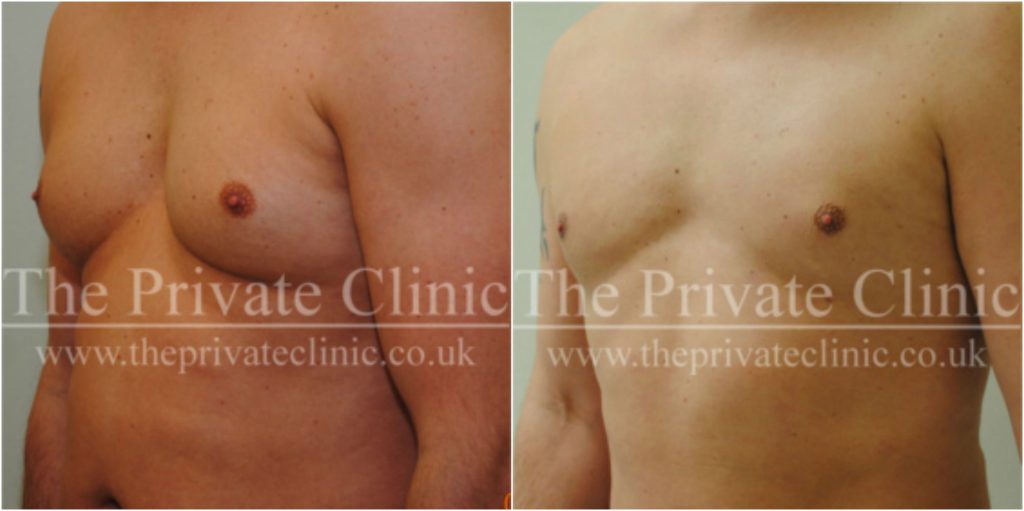 The Private Clinic
The Private Clinic is the UK's leading authority in minimally invasive procedures for fat removal, and is a training centre for Advanced VASER Lipo with more than 100 VASER procedures performed every month. Simply put, by coming to us for your male chest reduction treatment you can rest assured that you are in the hands of some of the most experienced doctors in the country. Click here to find out more about the team.
*All images, videos and testimonials are based on the personal experiences of our patients and represent individual body shapes and results. Results may vary from person to person. All testimonials are provided voluntarily by our patients and clients and all photos and videos have been consented to and have not been altered in any way.