Fantastic article in the Sunday Express Magazine yesterday by columnist Nick Ferrari, whose son, Nico, underwent a FUE Hair Transplant procedure, at the age of 26, right here at The Private Clinic.
Nick first realised that his son's thinning hairline was affecting his confidence, when watching Nico, a racing driver, collect a medal during his first season in motor racing. Nick explains: 'As Nico waited to collect his medal, I saw him look down into his racing helmet. Suddenly he seemed transfixed. From the other side of the track I couldn't work out what he had seen, but I was intrigued'.
Inspired by multiple press articles at the time covering footballer Wayne Rooney's decision to undergo a hair transplant procedure, Nick encouraged Nico to visit expert hair transplant surgeon, Dr. Raghu Reddy, at The Private Clinic for a consultation. Nick says of their meeting with Dr. Reddy, 'We were immediately impressed by the doc's knowledge, confidence and enthusiasm. When he removed his surgical cap to reveal a luxuriant crop of hair, the deal was done.'
Dr Reddy is specialised in Hair Loss, Hair Restoration and Hair Transplant procedures. His passion for treating patients suffering from Hair Loss stems from personal experience. He suffered from Hair Loss himself, and due to lack of research at the time; he unfortunately underwent a very poorly performed Hair Transplant procedure. Dr. Reddy has since pioneered significant advancements in the Follicular Unit Extraction (FUE) methodology and has performed over 2,500 successful procedures, both in the UK and internationally.
Nico underwent a FUE (Follicular Unit Extraction) hair transplant, a technique of hair transplantation that involves removing single follicles of healthy hair directly from a donor area on the scalp (usually at the back of the head where the hair is plentiful) and implanting the hairs, onto the balding or thinning areas
FUE is the preferred hair restoration treatment amongst many of our clients simply because of how minimally invasive the procedure is. The treatment is much less painful and involves no scarring in comparison to previous methods. Because each hair follicle is handled separately, the hair can be implanted in any direction, resulting in a denser, natural looking head of hair.
Read Nick's touching account of his son's journey and find out how Nico got on in the article 'Crowning Glory' here: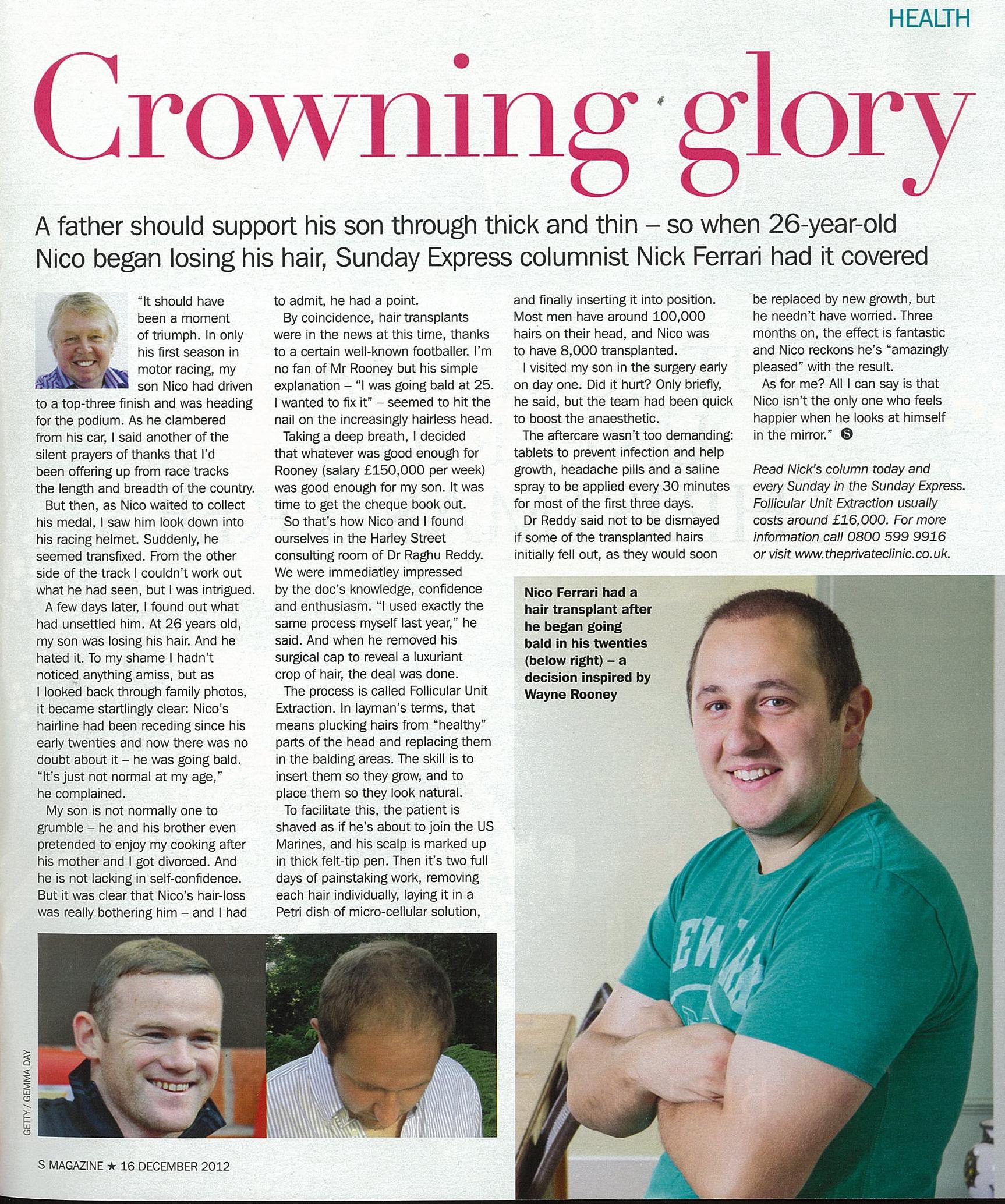 To find out more information about FUE hair transplants visit our website here.