Earlobe repair is becoming increasingly common in our clinics. As fashions change and people get older, body modifications such as tribal earlobes they made when they were younger are not always favoured as much in the more professional working world. At the same time fashion choices such as larger and heavier earrings in the past may have caused damage to your earlobe resulting in what is known as split ear.
At The Private Clinic we have treatments available to treat both tribal earlobes and split earlobes.
Tribal Earlobes

Tribal ear piercing is body modification that stems from an original ear piercing. Cone shaped tapers are often used to stretch the ear piercing hole to allow larger pieces of jewellery often known as plugs or tunnels to be worn.
When it comes to getting your earlobe back to its original shape it can be difficult especially those who have stretched to over 10mm in size.
Tribal Earlobes or Stretched Earlobe Repair Surgery

There are a couple of techniques for tribal earlobe repair surgery and which one your surgeon decides to use will depend on the size of your stretched lobe. Smaller stretched lobes often only require a couple of stitches but those with larger earlobes may require excess flesh to be removed before the lobe is then reshaped back to its natural curve.
Stretched earlobe repair is performed under local anaesthetic and takes around 15-20 minutes per ear. The earlobe will be closed up with absorbable stitches and you will have small dressings placed on the ear. The majority of patients are able to return to work and their daily activities the next day and the overall healing time for tribal earlobe repair is 4-6 weeks for the stitches to absorb and the wounds to heal.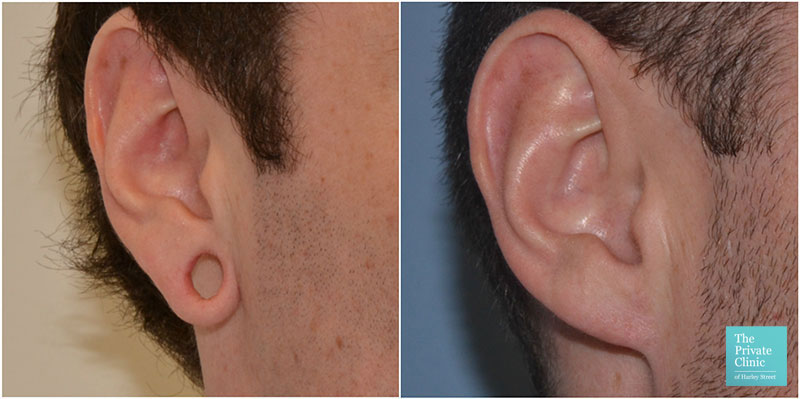 Read our extensive FAQs on Tribal Earlobe Repair here.
See our tribal stretched earlobe repair before and after photos here.
See recent press coverage here.
Split Earlobes
Split earlobes are usually just a result from wearing earrings for a long time. As we age the skin on our earlobes loses its elasticity and relaxes which can then lengthening the lobe and cause the hole of the ear piercing to sit low on the lobe and on some occasions the hole itself can become stretched and can eventually split the lobe completely. Split earlobes can also be caused from trauma where the earring is pulled forcefully through the piercing hole.
Split Earlobes Repair
Split earlobe repair is a fairly straightforward procedure that is usually carried out under local anaesthetic. It takes around 20-30 minutes to perform or shorter if only one ear is being treated. There is very minimal downtime involved and patients are often back to work and their daily activities the next day. It will take 4-6 weeks to see a fully healed result which will be when the stitches have been absorbed and the wounds to heal. Your surgeon will then advise you on scar management and when you can have your ears pierced again should you wish to do so.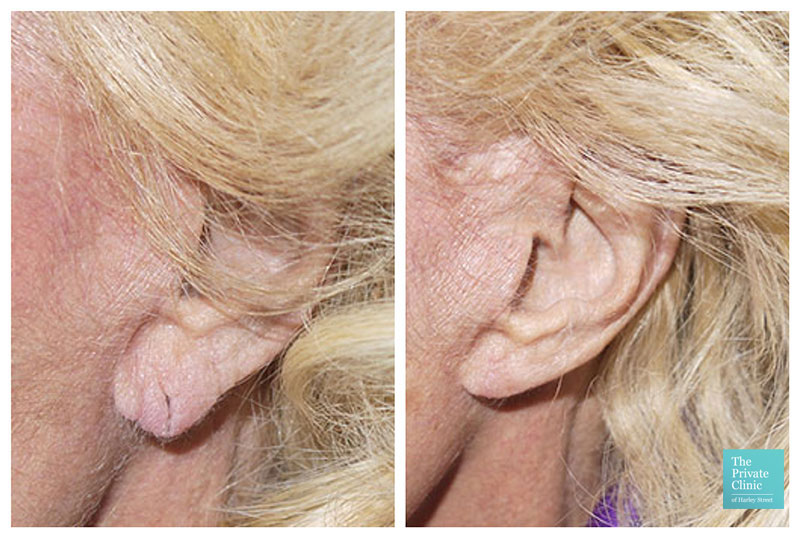 Read our extensive FAQs on Split Earlobe Repair here.
See our split earlobe repair before and after photos here.
London Harley Street
Stretched or Split earlobe repair is available at our London Harley Street Clinic which is easily commutable from surrounding areas including; Bayswater, Hyde Park, Green Park, Soho, Notting hill, Kings Road, Kensington, South Kensington, Chelsea, Fulham, Battersea, Regents Park, St Johns Wood, Primrose Hill, Victoria, West End, Marylebone, Knightsbridge, Belgravia, Mayfair, Holland Park, Earls court and Fitzrovia.
Tribal Earlobe and Split Earlobe repair is carried out by experienced plastic surgeon Mr Dario Rochira. Most torn earlobes can be effectively and safely corrected by Mr Rochira using delicate surgical repair techniques.
Birmingham
Stretched or Split earlobe repair is available at our Birmingham clinic which is easily commutable from surrounding areas including; Lichfield, Sutton Coldfield, Solihull, Shrewsbury, Kidderminster, Hampton in Arden, Leamington Spa, Stratford, Edgbaston and Harborne.
Consultant Plastic Surgeon, Mr Mark Lloyd specialises in minor op procedures such as tribal or split earlobe correction. He has extensive experience in Ear Reconstruction Surgery and always aims to achieve patient satisfaction.
Mr Kenneth Kok is a fully accredited UK trained Consultant Plastic, Reconstructive and Cosmetic surgeon. He undertakes all aspects of general plastic surgery including split earlobe and tribal earlobe repair.
Leeds
Stretched or Split earlobe repair is available at our clinic in Leeds which is ideally located for those traveling from the surrounding areas of; Farsley, Leeds city centre, Methley, Oulton, Stanningley, Yeadon, Roundhay,  Chappel Allerton, Scarcroft, Headingly, Wetherby, Pudsey, Calderdale, Kirklees, Otley, Harrogate, York, South Yorkshire, Sheffield and Doncaster.
Mr Philip Lim is a Consultant Plastic and Reconstructive Surgeon at our clinic in the northern English county of Yorkshire. He offers split earlobe repair and tribal earlobe correction for suitable patients.
Manchester
Stretched or Split earlobe repair is available at our clinic in central Manchester which serves patients from surrounding areas such as Hale/Hale Barns, Bowdon, Alderley Edge, Wilmslow, Macclesfield, Leigh, Prestbury, Nantwich, Tarporley, Knutsford, Worsley, Altrincham, Cheadle and Deansgate.
Mr Adel Fattah is a Consultant Plastic & Cosmetic Surgeon at The Private Clinic in Manchester undertaking all areas of general plastic surgery, Mr Fattah is able to offer split earlobe repair and tribal earlobe repair to patients at our Manchester clinic.
Stretched or Split earlobe repair at The Private Clinic
To find out more about stretched earlobe repair or to book a consultation to see one of our specialist earlobe correction surgeons please call 0333 920 2471, use our stretched earlobe online contact form or use our split earlobe online contact form.
Consultations available in London Harley Street, Birmingham, Bristol, Buckinghamshire, Manchester, Leeds, Northampton, Glasgow and Essex