The brazillian butt lift is one of America's fastest growing cosmetic surgery procedures and requests for this procedure are actually becoming a lot more common in the UK too. Patients are seeking curvier and more lifted buttocks.
Many however, are surprised to find out that the majority of surgeons in the UK do not carry out this procedure after The British Association of Aesthetic Plastic Surgeons (BAAPS) advised its members from undertaking this form of surgery due to the risks.
A BAAPS spokesperson estimated that one in 3,000 patients die worldwide as a result of complications from butt lift surgery due to the risk of injecting fat into large veins in the buttocks, which can travel to the heart or brain. Other complications include embolisms, fat necrosis and abscesses after the operation which can cause pain and mobility problems for a long time after surgery.
For patients who are still seeking a perkier derrière then here at The Private Clinic we do have a non-surgical alternative option.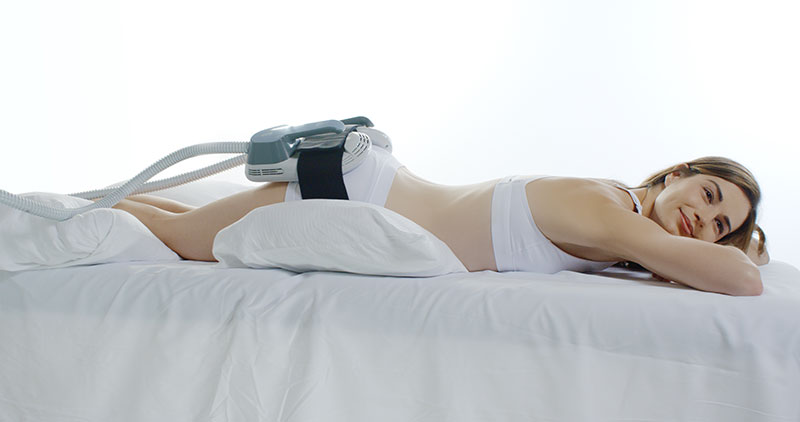 Emsculpt Butt Lift
Emsculpt is an FDA approved treatment for lifting and strengthening the buttocks. It uses high-intensity focused electromagnetic field (HIFEM) which targets the muscles within the buttocks rather than the fat – although fat loss is a side effect from the treatment as it encourages an enhanced fat metabolism.
The procedure forces your glutes to contract like they would within a high intensity workout but one 30-minute Emsculpt procedure is equivalent to 20,000 squats which is not achievable through the voluntary contractions that occur during exercise.
The result of treatment is stronger glute muscles and over time a more rounded and lifted buttock. For patients who are seeking further fat loss then we do suggest combining the treatment with CoolSculpting which can help to contour the area to give the desired brazillian butt lift appearance however it will be a lot more natural in appearance.
Emsculpt Butt Lift vs Brazillian Butt Lift
| | |
| --- | --- |
| EMSCULPT BUTT LIFT | BRAZILLIAN BUTT LIFT |
| FDA Approved Treatment | Safety concerns |
| No anaesthetic required | Surgical procedure performed under general anaesthetic |
| No incisions | Small incisions from the fat transfer |
| No downtime | 2-4 weeks |
| No swelling or bruising | Swelling and/or bruising common |
| No compression garment | Compression garment will need to be worn for at least 6 weeks |
| Patients can return to exercise after treatment | No exercise for at least 6 weeks |
| Can be performed in-clinic | Performed in hospital theatre |
| Fat reduction is a side effect from treatment | Fat reduction included |
| Requires multiple treatments | One surgical procedure |
| Gradual and natural results | Dramatic results |
Emsculpt Butt Lift results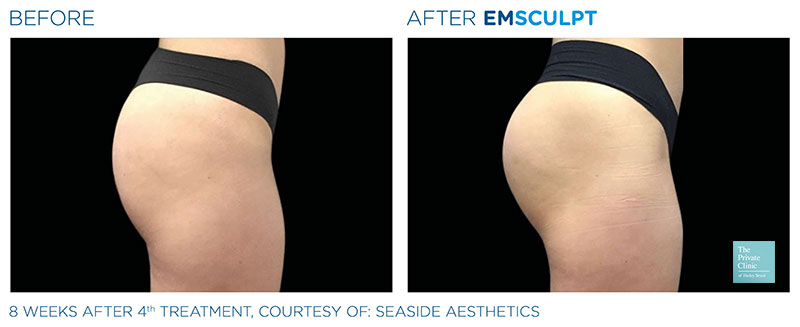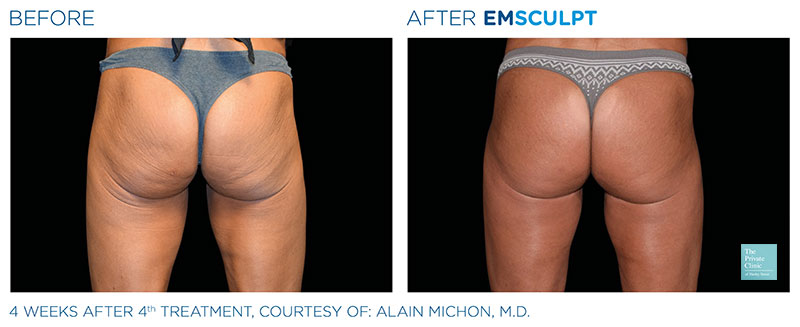 Why Choose The Private Clinic for Emsculpt?
FDA Approved
Builds muscle & burns fat
World's first non-invasive buttock lifting procedure
Tested by professionals
No downtime, no needles
Clinical results show 19% fat loss and 16% muscle increase.
Emsculpt treatment is available in Stoke Poges, Buckinghamshire and London Marylebone  which is just a short 5 minute walk from our London Harley Street clinic
To find out more about the Emsculpt buttock lift or to book a consultation, please call 0333 920 2471 or use our online Emsculpt contact form.