Kylie Jenner's pout was one of the most requested looks across cosmetic clinics across the company with many patients trying to recreate her plumped up lips with dermal filler injections. So when Kylie herself announced that she was having her lip filler removed, it came as quite a shock to many.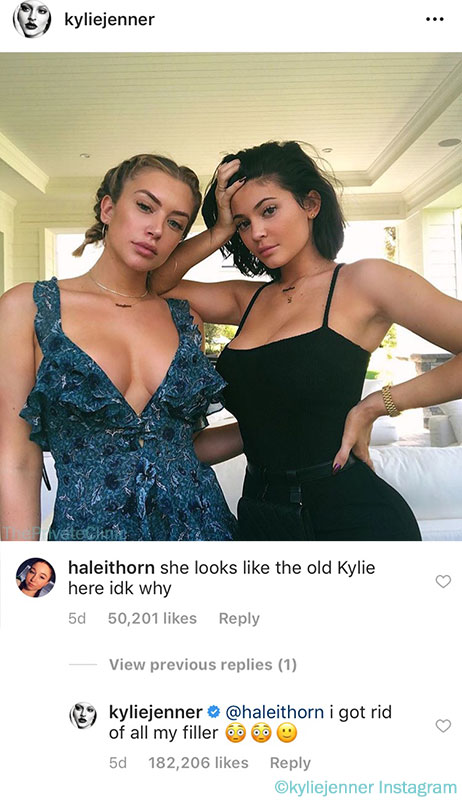 Dermal fillers are made up of a substance called Hyaluronic Acid which is found naturally in the body. Hyaluronic Acid absorbs moisture which creates a plumping effect which is why it is great for creating additional volume in areas such as the lips.
The results of dermal lip filler will vary between patients and often depends on the amount of filler used, the type of filler used and your own personal metabolism. You can usually expect dermal filler to last in the body from 6 – 12 months and after that point you will need to have another treatment to maintain the effects.
Although Kylie has not shared how she removed her filler exactly, our expert nurses and doctors believe it may be more of a case that Kylie did not continue to have dermal filler meaning the filler within her lips has simply dissolved into the body naturally and she has no current plans to have any more.
However if you wish to remove filler quickly then you will need to have another injectable treatment known as Hyalase (Hyaluronidase). Hyalase is another enzyme that is naturally found in the human body and it is very effective at breaking down hylaruonic acid to be naturally dissolved into the body. Hyalase is commonly used to reverse and correct fillers that may have gone wrong.
Hyalase injections must only be administered by a trained and experienced aesthetic doctor, nurse or surgeon as it is a very specialised treatment and requires a vast amount of experience.  Hyaluronidase as a rule should only really be used in an emergency as it does have a high anaphylactic ratio which means your body could react to it and go into shock.
Hyalase is also only able to dissolve filler that is made up of hylaruonic acid, if you have had a more permanent version of filler such as Radisse then you will not be suitable for Hyalase treatment as the hyaluronidase will have no effect on bulking agents and silicone.
Some common reasons why patients want to reverse their dermal filler treatment is for an undesired cosmetic result usually because it is too much or too different.
At The Private Clinic we aim to deliver natural looking results. Our experienced nurses, doctors and surgeons will suggest starting off small as it is easier to add filler than it is to take it away.
The most popular lip filler shape is along the border to achieve more definition and a fuller pout to give a more voluminous lip like Kylie's lips. At The Private Clinic we are able to achieve both lip filler results.
Achieving a natural look with subtle 'tweakments' such as a more defined lip, a sharper jawline or a more lifted cheek are all possible with dermal fillers and can be done in a way that your results will help you achieve a fresher and more rejuvenated look rather than look fake or overdone.

How to achieve a natural dermal filler result?
Only have dermal filler injections from a fully qualified medical professional
Only have dermal filler injections in a clean, safe and well equipped clinic
Listen to what your practitioner advises
Ask to see before and after photos
Less is more
Click here to read more about how to achieve natural lip filler results.
At The Private Clinic we only offer temporary lip filler injections and do not recommend permanent lip filler treatment. To find out more about our dermal filler treatments or to book a free consultation with one of our professional medical experts click here or call 0333 920 2471.
Dermal Filler is available at our London Harley Street, Birmingham, Bristol, Buckinghamshire, Leeds, Manchester and Northampton clinics.