Breast augmentation is a desired procedure now increasing in popularity due to the technical advancements available which reduce the downtime and offer great lasting results.
Breast augmentations and breast uplifts are procedures available for women who want to improve the appearance of their breast. These procedures enable the improvement of many breast concerns such as shape, symmetry, size or sagginess.
Choosing the right clinic to get any of these procedures done can sometimes be a difficult task; here you will be able to find useful information about the procedures if you are considering breast enhancement at any of The Private Clinic locations.
What is a breast augmentation?
Breast augmentation is a procedure which involves the insertion of implants into the breast area in order to correct, re-shape or add volume to the breasts.
With a breast augmentation you can expect:
Improvement of breast symmetry
Help with enhancement in the volume of the breast after breastfeeding or weight loss.
Enhancement of the size and/or the fullness of the breasts.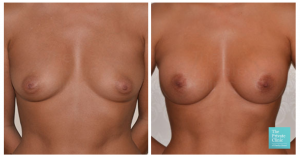 What is a breast lift?
A breast lift, also known as Mastopexy is a surgery which enables the patient to recuperate the firmness and shape of the breasts. It is ideal for patients who suffer from saggy or empty breasts or perhaps are unhappy about the positioning or size of their nipples.
The breast lift procedure consists on the re-tightening of the skin after the excess skin has been removed and the nipple has been repositioned. The result, firmer, smoother and rejuvenated breasts. The most common scar resulting from a breast lift is the lollipop scar, however, if the breast lift need is minor then a small scar can result on the lower bottom of the areola.
There is also the option available of having both a breast lift and a breast enlargement to achieve a fuller and/or rounder look to the breasts.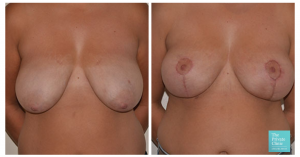 Where does The Private Clinic offer breast enhancement procedures?
At The Private Clinic, we have highly skilled surgeons with years of experience who have performed many breast enhancement procedures over the years.  Our trained consultants will be able to assist you and advise you every step of the way ensuring you can achieve your goals.
Both breast augmentation and breast lift are available in our clinic locations:
 London, Buckinghamshire, Northampton, Bristol, Essex, Glasgow, Leeds, Manchester, and  Birmingham.
To find out more about our renowned surgeons or to see before and after images of breast augmentations, and breast lifts, visit our site.
"So happy with my results, it was the best thing ever. The Private Clinic were so kind and helpful, made me feel safe…can't thank them enough" – Nafisa.
The Private Clinic
If you are considering a breast augmentation or a breast lift please contact us on 0333 920 2471 or book a consultation with one of our consultants available at any of our clinics.