We featured in the Daily Mail today all about Bra Strap Lipo and how it's helping lots of women look and feel better via MicroLipo at The Private Clinic of Harley Street.  Getting rid of unwanted and stubborn body fat is now much easier and much less invasive with MicroLipo. We thought we would share with you some info about MicroLipo in a blog post.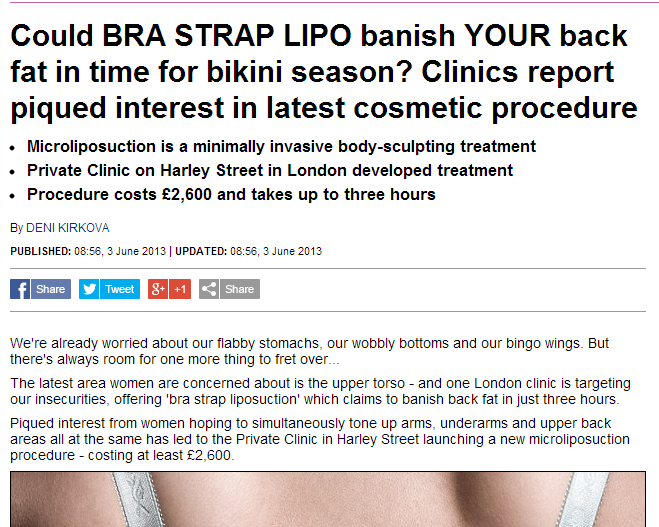 Developed by wunderkind Dr. Jeffrey Klein, MicroLipo has taken the cosmetic industry by the love handles and well, eliminated them. MicroLipo offers a minimally invasive alternative to surgical liposuction – helping people to look and feel better as well as getting them back to their daily activities quickly.
Our Dr. Puneet Gupta remains the only doctor in Europe certified to perform the KleinLipo technique and has treated many hundreds of patients, ridding them of unwanted body fat swiftly in this refined and specialised fat removal body contouring treatment.
MicroLipo can be used to eliminate fat in most places on the body including:
Chin
Back
Breasts
Chest
Bingo wings
Love handles
Stomach
Inner thighs
Knees

MicroLipo gets its name from the tiny microcannulas (the smallest is a mere 0.9mm wide and the biggest is only 3mm wide) employed to target specific pockets of fat. The procedure can remove up to 3.5l or 4% of the body's total weight, leaving you with an improved and more defined body shape. The microcannulas help to improve the quality of the results, with smoother and more uniform results all round.
During the procedure, with no need for a general anaesthetic, a tumescent anaesthetic is injected into the pocket of fat, resulting in swelling that helps to separate the fat cells from the surrounding tissue. The area doubles in size to help make fat removal easier and more targeted, resulting in far less trauma to surrounding tissue. This helps to minimise further swelling and any bruising after the procedure.
There is very little downtime associated with the procedure because it's minimally invasive. After a few weeks you will be begin to see the full results as the body returns to normal completely – revealing the body shape you have been after.
Body Fat
Each body is different and whilst some are fortunate enough to have low body fat percentage, whatever they eat or however much they exercise, many of us struggle to shift unwanted body fat. Thanks to genetics, many of us are predisposed to store body fat more visibly and more easily than others in common areas like the underarm, thighs and waist. The great news is that you can do something about it. Find out more about how The Private Clinic of Harley Street, with clinics across the UK, can help you achieve the body you want: https://www.theprivateclinic.co.uk/treatments/vaser-lipo/what-is-microlipo/
See the MicroLipo treatment in action on youtube: http://www.youtube.com/watch?v=ykBdeAzVFGg