Christmas comes but once a year and it's a time to eat, drink and be merry, but as the parties start, so does the temptation to overindulge on both food and alcohol.
Is it really impossible to enjoy the Christmas festivities without suffering from an expanding waistline? Celebrity personal trainer, Laura Marin, thinks in order to do so, you'll need a plan…
Laura says: "For most of us, we only really indulge on four big days: Christmas Day, Boxing Day, New Year's Eve and New Years Day, but if you have plenty of parties to go to, you'll need a plan."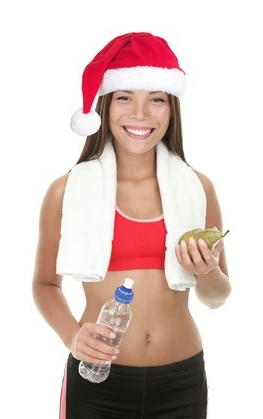 If you want to beat the Christmas bulge this year and get to 1st January 2016 without feeling like you have a mountain to climb to regain control of your weight, follow Laura's 10 simple steps:
Join the party just for an hour: Have a drink and then leave (very Anna Wintour!) Why not ask for some water and combine it with your drink (white wine spritzer?) or ask for ice cubes so your drink lasts longer?
Think about what you are eating: If you are going to lots of dinners, make sure you think about what you're eating – it's likely to be food that's heavier and more rich than usual, so watch your portions. If you're the host, buy only the necessary amount of food and make sure you always have fresh fruits and vegetables on the table.
Plan your whole day: f you have an event at night, make sure you have a good breakfast, a healthy and light lunch and (this is the key to success) a snack around 6pm. This could be a pot of natural yoghurt, a handful of berries or raw almonds and cashew nuts. This will ensure that when you arrive, you're not starving and your first drink doesn't hit an empty stomach and cause blood sugar levels. It'll also make you less hungry for dinner and less prone to overindulging.
Skipping meals is not an option if you want to be healthy:  Three meals and two snacks a day are a must. With richer food all around you'll want to think about eating smaller portions. Order a salad or extra vegetables with your main meal. Avoid starches and unnecessary carbs in the form of pasta or rice, especially at night.
Take control: Be proactive – if you know you've got lots of parties coming up, start taking control and monitoring your diet now so you have a good chance of looking and weighing the same in January.
Drink water: Drink lots of water but in small amounts. You'll be thirsty and dehydrated, so drinking water more often but in smaller amounts works better than drinking 2 pints of water all at once.
Workout: Christmas is not an excuse to stop working out. It's vital to keep up your healthy eating and exercising regime. Weigh yourself regularly and take action when you think it's necessary. Not knowing where you are with your weight is your worst enemy – fight your fears and be a winner.
Take responsibility: If you're doing well sticking to the plan – celebrate! Whether it's a massage, a facial or a new dress/suit – you deserve it!
Be persistent: If you didn't resist the temptation of a delicious and decadent dinner, you'll have to make it up to yourself. 72 hours of being good will do just fine.
Rest up: Get plenty of rest in between parties. You'll want at least 7-8 hours a night. Sleep is one of your best allies in the fight against gaining extra weight this season.
Laura Marin is a London-based athlete and personal trainer to the celebs.  With 15 years experience in the industry, she is committed to helping her clients reach their goal for body excellence. For more information, visit Laura's website.