Foot pain is a very common problem amongst and the majority of the time it's easily rectified with a well-earned rest but in some cases it can be something a little more serious.
For some patients, foot pain isn't just what happens after a night out or a busy day shopping it can be constant and cause difficulty in choosing shoes to wear and performing sporting activities such as running.
There could be a range of causes for your foot pain and we would recommend that you visit your GP to help you identify what might be wrong. One common cause of foot pain is Bunions or Hammertoe.
Bunions are a bone deformity of the joint which connects your big toe to the foot. It forms over time when your big toe pushes against your next toe which forces the joint of your big toe to grow and stick out from the side of the foot. It is reported that over 15 million people in the UK have bunions and the most common candidates are women over 45.
Usually, you wouldn't need to see a doctor to tell you that you have a bunion, they are quite easy to self-diagnose as they do cause a change to the shape of your foot. You may notice a swollen and bony bump on the outside edge of your foot and sometimes hard, callused and red skin can be present which is caused by your big toe and second toe overlapping. Some patients experience sore skin over the top of their bunions and often experience pain and swelling particularly after wearing shoes or standing/walking for long periods.
There are a lot of treatments for bunions including non-surgical options such as bunion pads which can help with making shoes more comfortable but for more instant and long lasting results, a bunionectomy procedure is recommended.
A bunionectomy is often not a first choice for many patients, although offered on the NHS, the downtime can be quite extensive taking anywhere from 2 to 6 weeks and often extensive activities such as sport and exercise will have to be avoided for 6 months. It is a bit commitment and with many of us leading busy lifestyles, it is most often not an option to be considered.
Here at The Private Clinic of Harley Street London, we are excited to be able to offer a minimally invasive surgical bunion removal procedure that has been inspired by keyhole surgery techniques. The minimally invasive bunionectomy procedure was originally developed by Orthopaedic Consultant Surgeon, Dr Bianchi. The keyhole procedure is able to remove bunions from the foot with a quick mini-invasive surgical procedure that doesn't involve any fixative devices such as screws, plates or wires. After the treatment patients are able to walk immediately with no crutches and get back to their everyday activities with no downtime and a lot quicker than traditional bunion removal surgery. The scaring post-procedure is also minimal as no z shaped cut is used.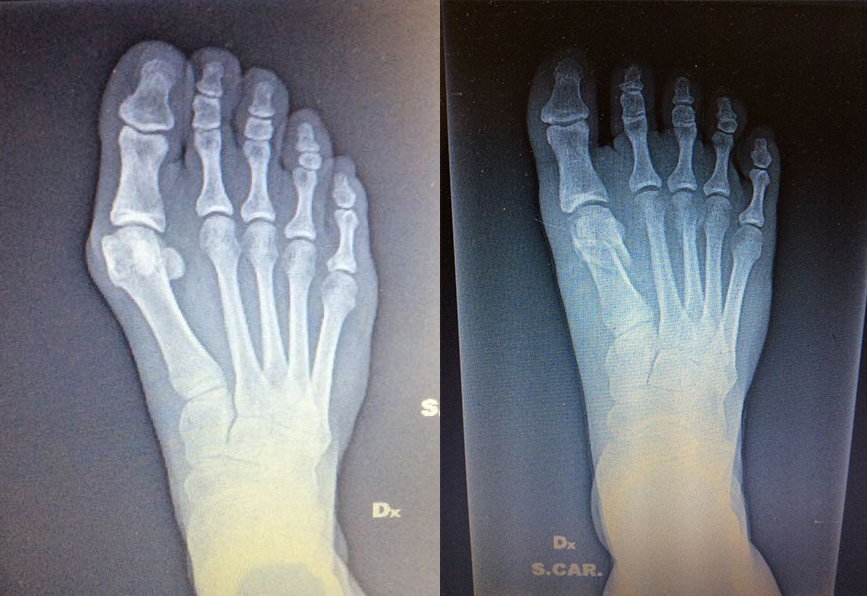 Why I Decided to Have Bunion Surgery
Karen had suffered from bunions since leaving school, she felt her bunions were starting to have a negative impact on her life affecting her posture, the way she walked, the activities she was able to do and even the shoes she was able to wear. Having previously been offered bunion surgery on the NHS she had refused due to the extensive downtime that would have had a huge impact on both her work and home life having a young family to raise at home.
Karen was keen to find another option and came across the minimally invasive keyhole procedure for bunions offered at The Private Clinic and decided to come in to find out more about it. A few weeks later, she was arriving at The Fitzroy Hospital ready to have her first bunion removal procedure and now 4 weeks on from her second procedure she wondered why she waited so long.
Read Karen's full patient story here
Or watch her patient testimonial below. Hear how she felt about her recovery and what activities she is now able to do with ease.
Bunion Surgery Before and After photos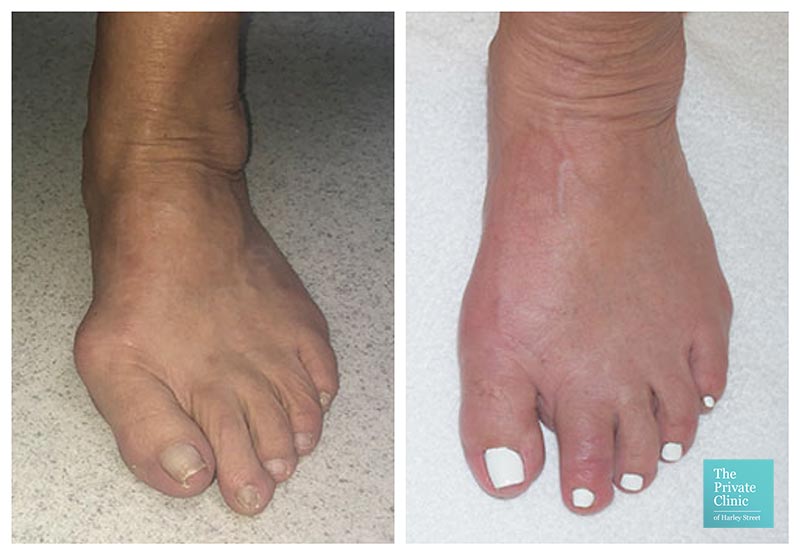 Bunion surgery at The Private Clinic of Harley Street London

Minimally invasive bunion surgery is exclusively available at The Private Clinic of Harley Street, London under the strict supervision of Orthopaedic Consultant Surgeon MD, Andrea Bianchi founder of PBS, the team who developed the percutaneous bunion surgery in 1996 and has supervised over 50,000 surgeries since.
Exclusive to The Private Clinic in the UK, there is no other operation like this one.
Minimally invasive procedure, bunion removal surgery is performed under local anaesthesia using keyhole techniques.
This is the only natural operation with no metal fixtures such as wires or screws being used.
There is a 98% success rate following the bunion operation
Orthopaedic Consultant Surgeon, Mr Bianchi is an expert in his field and  has been carrying out bunion operations for 15 years
Dr Bianchi carries out over 1,000 bunion operations a year
Walk immediately after surgery, with no crutches or extensive downtime required.
No need for an overnight stay
Minimal post-operative pain and aftercare.
2-3mm skin incisions which leaves no scar
Treatment carried out in our state of the art London Fitzroy hospital
24 hour patient helpline direct to your nursing team and surgeon, which means should you have any concern we are here to help.
Dedicated post-operative care and appointments with your surgeon and nursing team. We are here to give you the best experience.
Our excellent reputation for patient safety and satisfaction, honest advice and outstanding care means your journey with The Private Clinic will be an exciting experience to a newfound confidence.
Featured in Marie Claire's Cosmetic Surgery Trends for 2019.
To book a bunion consultation with our Orthopaedic surgeon Dr Bianchi call us on 0333 920 2471 or visit our bunion surgery page on our website where you will be able to find our patient stories and see more before and after pictures.