Just like any cosmetic or surgical procedures, you will often leave the clinic or hospital with a good idea of what your new look will be but the real results will take some time to develop.
A hair transplant is no different and for some it can take up to a year after the procedure to finally see the final result which means a huge amount of patience is required.
So while you are waiting for your new hair follicles to grow, or perhaps you are debating if an FUE Hair Transplant is for you why not take a look through some of our before, during and after images, read some patient testimonials and watch our patient story videos.
Hair Transplant Before and After Photos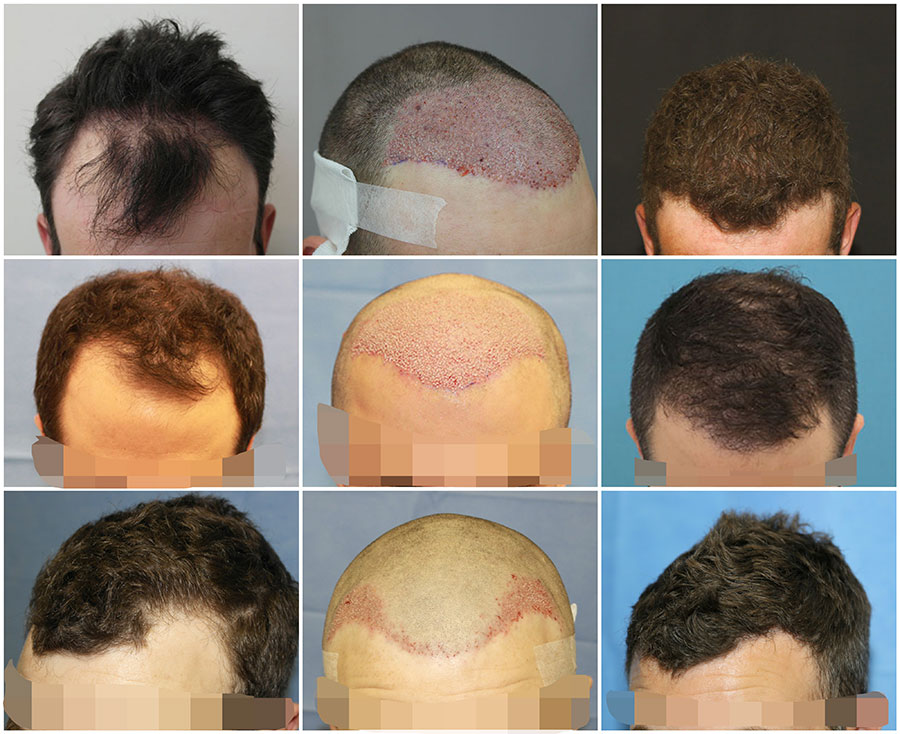 Click here to see more before and after photos
Hair Transplant Patient Testimonials and Reviews
"I had FUE treatment at the clinic and from start to finish everything was great. I first met the patient co-ordinator Steven and he was really welcoming, reassuring and answered any questions I had and put my mind to rest. I then had a consultation with the surgeon Michael and we looked further into the detail of my specific case. He was a really nice guy and was honest and open about what I needed and the pros and cons and realistic about worst and best case scenarios. I decided to go ahead as I felt this was the right place for me. On the day of the surgery I met Nabil and Monica the specialist nurses part of Michael's team. Again they were really genuinely nice people, making sure I was ok every step of the way and also along with Michael again answering any questions or concerns I had. The procedure went great and I couldn't ask for more. From the receptionists to the surgeons everyone I found was professional yet approachable." – Joe

---

"Dr Mouzakis and his team worked so well that day not only with the transplant but just being really friendly !!would not hesitate in recommending the Private clinic in the future ! Thank you" – Nathan

---

"Having undergone the FUE hair transplant procedure at the Leeds clinic I can safely say it was one of the best decisions I ever made. From the initial consultation with Sorena to the actual procedure carried out by Dr Mouzakis I felt well informed and well cared for. If anyone is contemplating a hair transplant, I would highly recommend The Private Clinic". – MG

---

I had a Fue hair transplant (6000 hairs) 13 months ago at Harley Street with Dr Reddy and I could not be happier with how the surgery went and the results, a huge thanks to Dr Reddy and his amazing team. – John
---

The best thing about having my FUE hair transplant at the private clinic in Harley Street was the friendliness and professionalism of the staff . From the first consultation , to the procedure itself they give you the best care possible and genuinely care about their work. They set you at ease immediately which makes everything run smoothly. I would like to thank Henry, Umar, Bev and of course Dr Reddy for the way they treated me. I could have not chosen a better option. Thanks to the team and for anyone in 2 minds about a procedure…. go for it!- this team is the best. – Greg

---
To read more reviews from our patients click here
Patient Hair Transplant Stories
Graham is one of our past FUE Hair Transplant patients who let us share his story.
Graham started noticing hair loss from the age of 23 and by the time he reached 34 he described himself as being bald. After trying various treatments which had all been unsuccessful it wasn't until he was 63 that he decided to book a consultation with us here at The Private Clinic.
Despite being declared a number 7 on the Norwood Scale of Hair Loss which is actually the severe and final stage of Male Pattern Baldness our surgeons still felt he had enough healthy hair follicles in his donor area for an FUE Hair Transplant to be successful.
After the treatment had performed Graham was thrilled with the results, despite the final results still not being able to be seen instantly.
 "I could see a real hairline for the first time in 30 years. I can't tell you how good it made me feel"
Click here to read Grahams full story
Hair Transplant Surgery at The Private Clinic
The Private Clinic prides itself on ensuring you have the best quality and most comprehensive care:
24 hour patient helpline to ensure you are always in the best of hands.
As many post-operative care and appointments with your Hair Transplant surgeon and nursing team as required.
Highly experienced Hair Transplant Surgeons who have many years of experience.
Comprehensive patient information, every step of the way.
Outstanding clinic facilities.
Our excellent reputation for patient safety and satisfaction, honest advice and outstanding care means your journey with The Private Clinic will be an exciting experience to a newfound head of hair.
View our before and after results gallery
Find out more information in our blogs
Read our extensive FAQs
Hear from previous Hair Transplant patients in our patient stories and videos
We have clinics nationwide in London Harley Street, Birmingham, Bristol, Leeds, Manchester and Northampton.
Expert Hair Transplant Surgeons at The Private Clinic
If you would like to find out more or arrange a hair transplant consultation with one of our leading surgeons or patient advisors at one of our nationwide locations, please get in touch via 0333 920 2471 or use our hair transplant online contact form.