She's topped countless 'Most Beautiful' lists and regularly graces the cover of sophisticated beauty and fashion magazines the world over, but ask Kate Winslet what she thinks about her looks and her answer might surprise you.
Speaking to Marie Claire, the Academy Award winning actress played down compliments bestowed upon on her by the press, confessing "I had a terrible bout of acne after I turned 30. I kept reading about my sodding dewy complexion and thinking, 'Oh s**t, look at me, I'm covered in bloody spots, proper cystic bumps, if only they knew.' "
And the actress, who has just turned 39, certainly isn't alone. Adult acne is a highly misunderstood condition that affects roughly one in 10 of us over the age of 25, with 80% of sufferers being female.
What causes acne?
The condition is caused by tiny glands in our skin becoming blocked and then contaminated by normally harmless bacteria. The sebaceous glands, where spots form, are responsible for creating an oily substance called sebum which we need to lubricate our skin. When they produce too much sebum, the substance mixes with dead skin cells and blocks the pore creating an ideal harbouring ground for bacteria. Excess sebum can be triggered by many causes, but one of the most common is hormonal changes. This is why the condition affects so many teenagers and the reason so many women find themselves suffering, with the monthly cycle and pregnancy being common triggers.
How to treat acne?
While controlling hormonal splurges and preventing acne is near impossible, treatment for the condition certainly isn't. There are a range of treatment options available, from chemical peels to NLite laser procedures, that are all designed to tackle the cause of your skin condition directly, rather than just symptoms.
N Lite treatment for Acne
Our N lite laser acne treatment is our most popular acne treatment. It aims to treat the root cause of acne by targeting the bacteria that actually causes the infection. The N-Lite acne laser treatment works in 3 ways: killing the bacteria, stimulating new collagen and reducing inflammation. The treatment is suitable to be used to treat acne on the face, neck, back and chest and has been described as the most significant advancement in the treatment of acne in decades.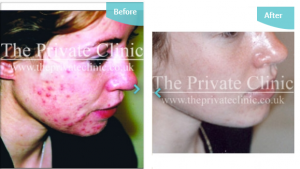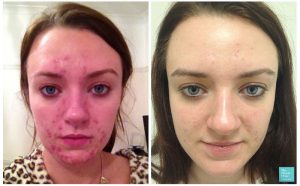 Chemical Peel treatment for acne
Chemical peels are another great treatment to help reduce the appearance of acne. We often combine chemical peels with our laser acne treatment to get the best results but chemical peels can also be used on their own with patients following a skin care routine at home too. There are a variety of chemical peels and enzyme treatments available for acne prone skin including; DermaFrost, Blue Peel Radiance, Oxygen Rx treatment and if you have darker skin then a MandeliClear Peel may be suggested.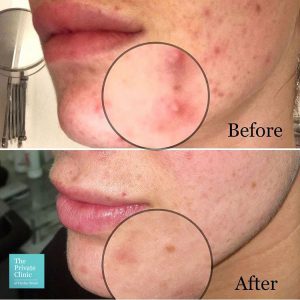 At The Private Clinic we understand not everyone's skin is the same, and treating it should never be a one-size-fits-all policy either. We work with a range of treatments including use-at-home products, in-clinic chemical peels, and non-abrasive laser treatments. We are proud of our knowledgeable team of nurses and doctors, headed by one of the UK's leading dermatologists, all of whom are available for consultations and treatments.
Acne treatments are available in our London Harley Street, Birmingham, Buckinghamshire, Leeds, Manchester and Northampton clinics.
To find out more about what acne treatments are available at a clinic near you, contact us on 0333 920 2471 or use our online acne treatment contact form.