When it comes to choosing a clinic to visit for a breast enlargement consultation you may be faced with a lot of options which is why we've put together this blog for you to find out what benefits The Private Clinic has to offer.
Free Consultations with our Breast Enlargement Surgeons
Our team of the most experienced and well respected surgeons in the industry
State of the art hospital and day case facilities
Lifetime Guarantee of Implant Replacement
We are committed to providing you the best possible care
Excellent reputation for patient safety and satisfaction
 "So happy with my results, it was the best thing ever. The Private Clinic were so kind and helpful, make me feel safe…can't thank them enough" – Nafisa
Patient Journey
When you make an appointment with a surgeon here to discuss breast implants you will visit your selected clinic on the date chosen and on arrival you will have some forms to fill out. You will then meet with your surgeon who will discuss with you what your desired outcome is as well as going over any questions or concerns you may have.  Your surgeon will then take some measurements to be able to advise you on the best implant to give you the results you want. After your consultation you will be introduced to a patient co-ordinator who will be your point of contact for the rest of your surgical journey.
Your patient co-ordinator will give you a selection of information to take away with you and once you are happy and feel ready, will be able to discuss dates for your surgery. If at any point you have any questions or want to see your surgeon again, your patient co-ordinator will be able to organise this for you.
On the day of your surgery you will have already received information on how to prepare including fasting advice. You will arrive at the hospital before your scheduled operation time and meet with the nursing team who will run some post-operative tests on you. You will then be gowned up and your surgeon will come to meet you and make some marking on your chest. Once ready, you will then be taken down to the operating theatre where you will meet your anaesthetist.
You are under general anaesthetic for the entire procedure so you will not feel a thing and once you wake up you will be in recovery with a surgical bra on. Once you have come round and have had something to eat, with the go ahead f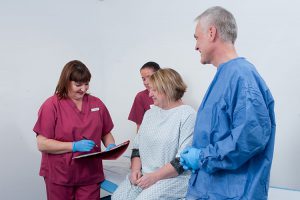 rom your surgeon you will be discharged and free to go home.
Take care in the weeks following surgery to ensure you have a quick and painless recovery. You will have been given aftercare information and provided with medication to take. One week after surgery you will come back into clinic to meet with a member of the nursing team who will take a look at your incision to make sure everything is healing well. If you have any concerns before this point then we have a dedicated team that you will be able to contact 24/7.
6 weeks after your procedure you will come back into clinic to meet with your surgeon again who will see how you are healing. At this stage they may discuss scar care advice with you and they are also able to answer any questions you have.
After this point you are not required to attend another follow-up however, you are able to make an appointment to see your surgeon at any time you feel the need too. Some of our surgeons like to see patients on a yearly basis to make sure everything is okay.
Before and After Photos
Click here to see our before after results photo gallery
The Private Clinic
We are proud to offer the highest quality breast implants, with procedures performed by some of the UK's top consultant plastic surgeons. Our team includes some of the most recognised Breast Surgeons in the UK, based in London Harley Street, London City, Birmingham, Manchester, Leeds, Glasgow, Princes Risborough (Buckinghamshire), Northampton and Bristol– all of whom are on the specialist register for Plastic Surgery and are members of British Association of Aesthetic Plastic Surgeons (BAAPS).