Eyelid surgery is great for targeting eyes that are looking tired all the time. It produces results that are able to make you look more rested, alert and happier as many patients complain of looking angry or upset on a regular basis.
The best patients for eyelid surgery usually have at least one of the following complaints;
Dark circles below the lower eyelid
Noticeable lines and wrinkles on the eyelids
Eye bags beneath the lower eyelid caused by fat
Excess skin on the upper or lower eyelids.
Bulging fat in the upper or lower eyelids.
Eyelid surgery otherwise known as a Blepharoplasty can be performed on the upper or lower eyelids or even both in cases where it is needed.
Upper Blepharoplasty
An upper blepharoplasty can be performed under local anaesthetic and can take as little as 30 minutes to perform. The downtime is minimal and many patients return home shortly afterwards.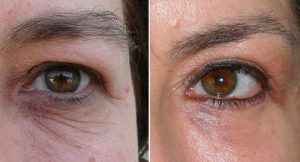 Lower Blepharoplasty
A lower blepharoplasty is a little more complex compared to an upper blepharoplasty and so it is usually performed under a general anaesthetic.  It can take between 1-2 hours to perform but unless requested by the surgeon, you will  be able to return home later that day.

Combined Procedure
A combined procedure is when you are having both an upper and lower blepharoplasty. This procedure will be performed under general anaesthetic and can take up to 2 hours to perform depending on the severity.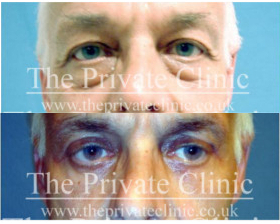 Fat Transfer
In some eyelid surgery procedures, a fat transfer or repositioning may be suggested for eyelid areas that have lost fat volumes causing a shallow or sunken appearance and dark circles. Fat repositioning is when local eyelid fat is essentially repositioned to the other eyelid hollow. Fat can also be taken from other areas of the body, but usually your surgeon would prefer to reposition fat that is already in the eyelid area.
Non-Surgical Eyelift
For patients who are looking to improve the appearance of their eyes but are wanting to avoid surgery, a non-surgical eyelift may be an option. Our Handy Plasma Non-Surgical Eyelift treatment available at our London Harley Street clinic is a great option for patients with mild to moderate loose skin around the upper eye area.
The treatment is a powerful and effective non-surgical alternative that is able to remove the excess eyelid skin and tighten up wrinkles located around the eyes whilst being entirely non-invasive with no need for incisions, scalpels or stitches. A Plexr® Plasma Pen device applicator is used to ionise the gas particles in the air between the device tip and your skin emitting a small electric arc. This creates a substance known as plasma which makes the target tissue – your skin will go from being solid to a gas state, essentially vaporizing excess skin around the eyes. After the treatment, you will have, what's known as a carbon crust on the areas that have been treated. This carbon crust will appear as a series of round dots which can take up to 10 days to fully heal. Any swelling following treatment usually subsides after 1-3 days.
If you have more significant drooping you may still require blepharoplasty treatment instead to get the best results. The best thing is to come in for a consultation to discuss the options.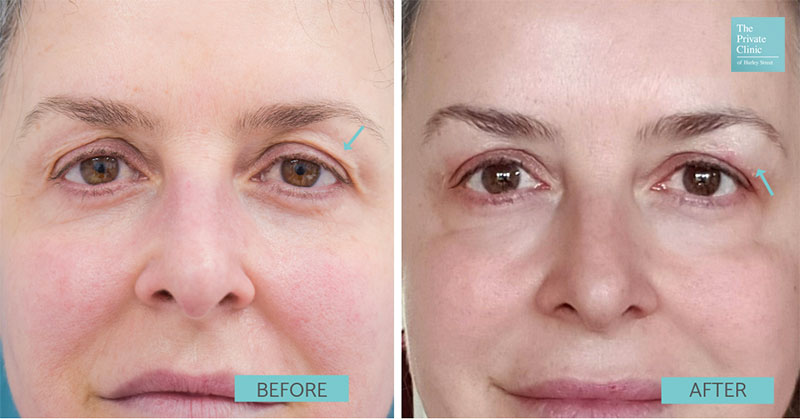 Suitability
To best assess your suitability for eyelid surgery you should book a consultation with a plastic surgeon that is specialised in treating the facial area and has performed many surgical eyelid procedures previously. Your surgeon will be able to take a look at your eyelid areas and make a decision about what procedure would be best suited to ensure you get the result you desire.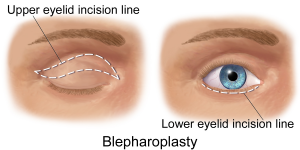 It is also important to note that to even be considered for eyelid surgery, you must be in good health with no existing medical conditions that have the potential to affect your ability to heal after the procedure. You must also have a realistic expectation of what is achievable with surgery to ensure that you have a higher rate of satisfaction at the end of the procedure.
In some cases, patients may not be deemed severe enough for surgery at this stage and you may be suggested to try non-surgical options such as dermal fillers or thread lifts to improve the appearance of your eyes.
Recovery
Following your surgeon's advice is the best way to ensure that you get the best results from your surgery. For the first 2 days, you should be taking it easy and allowing your body to recover from the procedure. By day 2-5 you should be up and about but swelling and bruising will be visible so you may wish to refrain from social interactions if you are feeling sensitive. After day 5 the remainder of your bandages will be removed and the bruising and swelling should have settled but may still be visible. You should be able to start returning to your everyday routines by this point and after 3 weeks you will be well on your way to complete recovery.
The Private Clinic
Our Plastic Surgery team consists of some of the Country's most reputable Consultant Plastic & Reconstructive Surgeons who have years of experience and expertise. We are proud to have;
To learn more about blepharoplasty treatments, see before and after images of our patients and read useful FAQ's please visit our website.
If you would like to arrange a consultation, please call us on 0333 920 2471 or you can request a blepharoplasty consultation via our website.