Upper and Lower Blepharoplasty (Eye Bag Removal and Eyelid Surgery)
The Problem
If you're experiencing sagging eyelids or bags under your eyes, surgery can be a viable option to correct them.
Blepharoplasty, sometimes also known as eyelid lift surgery or eye bag removal, is a simple, safe and quick procedure to remove excess fat and skin from around the eyes.
The treatment is commonly used to correct hooded or drooping eyelids, and can take as little as 30 minutes depending on the complexity of the case.
Treatment procedures are available in our London, Manchester, Leeds, Bristol and Glasgow clinics.
Consultations for Blepharoplasty procedures are available nationwide in Cardiff, Edinburgh, Northampton, Liverpool, Nottingham and Milton Keynes .
What is Blepharoplasty?
Blepharoplasty is a simple procedure to remove or reposition excess skin and tissue around the eyelids. The treatment can be used to reduce drooping, tighten any creases and folds in the upper or lower eyelids, and lift skin surrounding eyes. Eyelid surgery may also benefit you if you suffer from hooded eyelids (when the upper eyelid folds over the eye) or if you want to reduce age-associated puffiness around the eyes such as eye bags, though blepharoplasty isn't limited to those battling the years. If you're experiencing sagging eyelids in your 20s and 30s, surgery can be a viable option to correct them.
If the surgical blepharoplasty is not for you, then click here to find out about our innovative non surgical eyelift. https://www.theprivateclinic.co.uk/treatments/anti-ageing/non-surgical-eyelift-blepharoplasty
Patient story
Deborah couldn't be happier with the results from her upper eyelid surgery. Find out more in her patient story.
The Problem
If you're experiencing sagging eyelids or bags under your eyes, surgery can be a viable option to correct them.
We all have different needs and wants, which is why your eyelid surgery will always be tailored to you. Depending on the nature and severity of your excess eyelid skin, you may need either upper, lower, or combined blepharoplasty, and the procedures differ in terms of their process and recovery.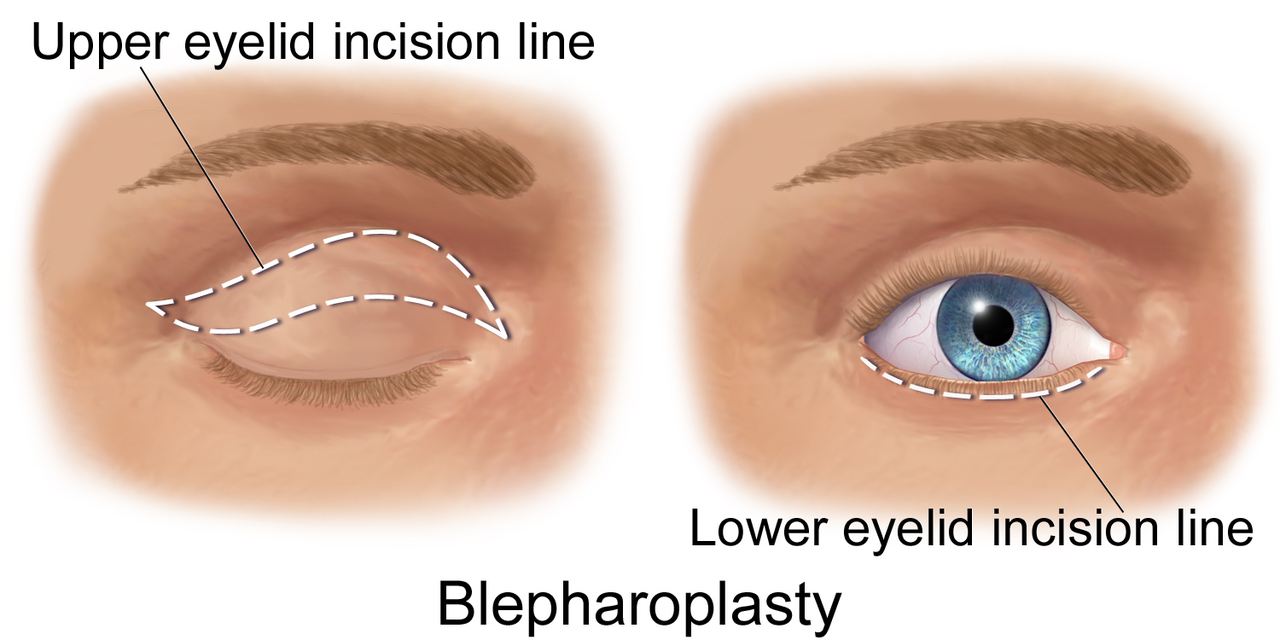 Upper Blepharoplasty
Upper blepharoplasty is a relatively short procedure that can take as little as 30 minutes. Usually performed under local anaesthetic, an upper blepharoplasty requires minimal downtime and has lessened risks making it one of the safest and most speedy invasive procedures available. Patients can return home swiftly after their procedure with a huge difference to their eyes and face.
Lower Blepharoplasty
More complex than the upper blepharoplasty but still relatively quick, procedures for the lower lids often require general anaesthetic and take between 1-2 hours to perform. Eye Bag Removal can be done as part of a lower or combined blepharoplasty, helping to reduce puffiness, without causing a hollowed out look.
Upper and Lower/ Combined Blepharoplasty
For those with more severe problems, a combination of both upper and lower can take place to restore a youthful and refreshed appearance, but the look you want and the best method to achieve it will always be discussed fully at the consultation stage.
Blepharoplasty procedures can take place in our own clinics in London Harley Street and Manchester, Leeds, Birmingham and Bristol.
To prevent scarring, these procedures use very fine sutures to close incisions, which are removed after 4-5 days.
For information about our one stitch or micro facelift click here. To see our before and after photos for facelift click here.
The Results
Regardless of whether you are having an upper, lower, or combined blepharoplasty, our surgeons always use extreme precision along the natural folds of your eyes to prevent scarring and ensure a recovery that is as quick as possible. The result is a naturally rejuvenated and refreshed face with excess skin and fat from around the eyes removed.
FAQs
What is a blepharoplasty?
Am I suitable?
How long will the procedure take?
Where are the blepharoplasty incisions made?
Is a blepharoplasty painful?
Can a blepharoplasty treat eye bags?
Will a blepharoplasty improve the wrinkles around my eyes?
Can a drooping brow be corrected with eyelid surgery?
Can a blepharoplasty be combined with another procedure?
What happens during a blepharoplasty procedure?
What is the downtime?
When will I be able to return to work after blepharoplasty surgery?
Can I drive after a blepharoplasty?
When can I exercise after a blepharoplasty?
Can I wear glasses or contact lenses after a blepharoplasty?
When can I wear make-up after blepharoplasty surgery?
Will there be any scarring?
When will I see the results?
What is an Asian Blepharoplasty?
What are the risks of eyelid/eyebag surgery?

*All images, videos and testimonials are based on the personal experiences of our patients and represent individual body shapes and results. Please bear in mind that results may vary from person to person. All testimonies are provided voluntarily by our patients and clients. Their comments have not been altered in any way, and their experiences are their own.
'Fantastic surgeon – was the first surgeon I saw when I was considering the operation and I had no doubt he would do a fantastic job' *

London
"Dr Fallahdar was amazing, I did my research before coming to the clinic and I wouldn't of gone with another doctor except Dr Fallahdar. I would highly recommend him as he has changed my life more than you could imagine. Thanks so much!" *

London
"A very easy journey, with lots of reassurance'" *

London
"So happy with the results, everything has been excellent from 1st consultation onwards. Really glad I made the decision" *

London
'I am extremely happy with Dr Fallahdar's procedure and the care that I received on the day of my surgery and also the aftercare' *

Claire, London
The average price for blepharoplasty surgery for an upper eyelid procedure starts at £2,900 and the cost for a lower eyelid procedure starts at £4,360 . If you require a full blepharoplasty (both upper and lower eyelids), prices start from £4,995. We don't follow a one-price-fits-all policy and prices are quoted on a case by case basis. You will be given an accurate quote for your requirements following your consultation.
We offer FREE consultations with our highly experienced Patient Advisors who are able to offer you all the information your require prior to meeting a surgeon. Consultations with one of our Senior Plastic and Reconstructive Surgeons for Blepharoplasty are £50.
The Procedure
FAQs
Cost
News
Available in these clinics