Earlobe Repair Surgery
The Problem
If your lobes are sagging, then an earlobe reduction will be the best way to reshape them and make them more proportionate, whereas if they've been torn then they can be stitched up and amended as well.
Earlobe Repair
The earlobe is the lower, fleshy part of the ear that is sometimes pierced. The area consists of a delicate piece of skin that is made up of fat and skin. This area can be split due to heavy or over-stretched earrings. Split earlobes can be caused by trauma, which may occur if earrings are pulled through the piercing hole. Additionally, wearing earrings — especially heavy earrings — can lengthen the piercing hole and eventually pull through over time. People with thin earlobes are predisposed to this occurring.
Earlobe repair or split earlobe surgery is a quick and simple minor procedure to correct split, ripped or torn earlobes and/or stretched earlobes. If you're interested in having your split earlobe, widened piercing hole or stretched ear piercings reversed or repaired, arrange for a consultation with our expert Cosmetic Surgeons who performs this procedure.
Split Earlobe Surgery Before and After Photo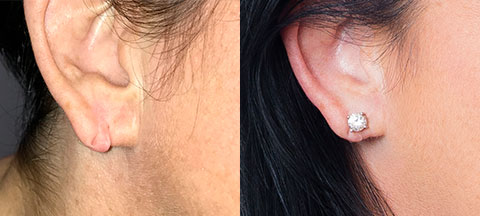 Sonia thought she would never be able to wear earrings again before going ahead with her Split Earlobe Repair, read her patient story here
Our consultant plastic surgeons are also able to offer tribal earlobe repair to correct stretched earlobes and earlobe reduction to re-shape or re-size the fleshy lobe part of the ear.
Split Earlobe repair surgery consultations are available at our Birmingham, Bristol, Leeds, Manchester, London, Buckinghamshire , Milton Keynes and Northampton clinics.
See what you need to know about fixing a split or partially split earlobe.
The Problem
If your lobes are sagging, then an earlobe reduction will be the best way to reshape them and make them more proportionate, whereas if they've been torn then they can be stitched up and amended as well.
The Earlobe Reconstruction procedure
The technique used for your Earlobe reconstruction will depend on the state of your lobes and your desired results. It's a fairly straightforward procedure that can be done in any of our in-house theatres under local anaesthetic. The procedure takes 20-30 minutes to perform.
If your lobes are sagging, then an earlobe reduction will be the best way to reshape them and make them more proportionate, whereas if they've been torn then they can be stitched up and amended as well.
For those of you with stretched lobes there are a couple of options. A hole with a small diameter could require only a few stitches. If you've stretched your lobes beyond 1.5cm in diameter, they won't be able to spring back to their original shape and may require for the excess flesh to be trimmed before they can be reshaped.
Downtime
The procedure is performed under local anaesthetic, there's no downtime involved, allowing you to return to your daily activities as soon as you're ready.
Your surgeon will advise you on scar management and on when you can have your ears pierced again should you wish to do so.
FAQs
What is earlobe repair?
What is a split earlobe?
What is a stretched or tribal earlobe?
Why do earlobes split?
Will a stretched or split earlobe heal naturally without surgery?
Is there a limit to the size of earlobe stretch that can be repaired?
How long does earlobe repair surgery take?
Is earlobe repair carried out under general or local anaesthetic?
Does earlobe repair hurt?
What happens during an earlobe repair procedure?
What is a rotational flap earlobe repair?
How will I need to sleep after my surgery?
How long will the results from earlobe surgery last?
Can I pierce my ears after earlobe surgery?
How long will I need to take off work after earlobe surgery?
When can I exercise after earlobe repair surgery?
Will I be able to drive home after earlobe repair surgery?
When will I be able to wash my hair after earlobe repair surgery?
How long is the healing time after earlobe repair surgery?
Will my stitches need removing?
Will I have a scar?
Is earlobe surgery safe?
How much does earlobe repair surgery cost?

*All images, videos and testimonials are based on the personal experiences of our patients and represent individual body shapes and results. Please bear in mind that results may vary from person to person. All testimonies are provided voluntarily by our patients and clients. Their comments have not been altered in any way, and their experiences are their own.
"I'm so pleased with the results and it is really life changing for me!" *

Nicole Hopkirk, Former Managing Editor, MSN Health
"I just wanted to say thanks to you all for being such a great team and for making me feel at ease from the start to finish on the day of my procedure. I was really nervous, but you all made me feel much more comfortable with your warm and friendly approach. I would highly recommend you to anyone and can't wait to see my final results!" *

Birmingham
"So impressed, extremely professional, extremely friendly, lovely set up. Felt so relaxed and at ease, would more than highly recommend The Private Clinic and I'm considering having other procedures in the new year. Thank you!" *

Catherine, Leeds
"Thank you so much. Everyone was so friendly and caring. Could not fault anything. I have already recommended the treatment to everyone." *

Bristol
"I am 100% satisfied. Great doctor and staff. The results are amazing. I feel like a new person. You have the WOW factor!" *

Manchester
Split Earlobe Repair Cost UK
Bilateral Earlobe reconstruction surgery prices start at £735 for a small procedure (split earlobe repair). Split earlobe repair on only one ear (unilateral) starts from £475
We also offer Tribal Earlobe / Stretched earlobe correction. Click here to find out more.
We don't follow a one-price-fits-all policy and prices are quoted on a case by case basis. You will be given an accurate quote for your requirements following your consultation.
We offer FREE consultations with our highly experienced Patient Advisors who are able to offer you all the information your require prior to meeting a surgeon. Consultations with our Consultant Plastic Surgeons are £50. Please note that consultations at our Harley Street clinic are with the Surgeons.
The Procedure
FAQs
Cost
Available in these clinics