Mr Paul Jairaj
CONSULTANT ORTHOPEADIC SURGEON
Bachelor of Medicine and Bachelor of Surgery, MB ChB – Birmingham University 1991
Fellowship of Surgery in General , FRCS (Eng) – Royal College of Surgeons of England 1996
Fellowship of Trauma and Orthopaedic Surgery, FRCS (Tr&Orth) – Royal College of Surgeons of England 2002
GMC Number: 3489402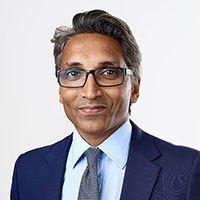 About Mr Paul Jairaj
Mr Paul Jairaj is a British and Internationally trained Consultant Orthopaedic Surgeon with fifteen years' consultant experience in hip and knee surgery. He has been consulting privately in Central London since early on in his orthopaedic career and sees over 2000 patients each year.
Mr Jairaj qualified in Medicine from the University of Birmingham. He then completed his basic surgical training at St Mary's Hospital, St Bartholomew's Hospital, The Royal Postgraduate Medical School at The Hammersmith Hospital, The Mayday Hospital and Hillingdon Hospital.
Mr Jairaj obtained The Fellowship of the Royal College or Surgeons (FRCS Eng) qualification on the prestigious Imperial College Scheme in the North West Thames Region. This involved placements at St Mary's Hospital and Kingston Hospital, The Royal Berkshire Hospital, Chelsea and Westminster Hospital, Charing Cross Hospital, Hillingdon Hospital and Northwick Park Hospital.  
After finishing his training, he undertook visiting Fellowships at Centres of Excellence across the United States including The Hospital for Special Surgery in New York and Harvard and a French Fellowship at the Clinique du Sport in Bordeaux.
The variety of training and experience that Mr Jairaj has undertaken has played a big part in how he approaches his consultations and care. He prides himself on providing a precise diagnosis along with the correct management that suits the patients' individual needs and is open to using surgical technologies that may not be widely available in standard healthcare practices.
Mr Jairaj is passionate about updating his knowledge and so attends multiple national and international meetings on a regular basis so he can continue to provide the latest advice and experience on the latest treatments available. He remains at the forefront of what is tried, tested, and proven.
Mr Jairaj joins us at our London Harley Street clinic to offer symptom control treatments for osteoarthritis in the knees and hips.
The treatments that Mr Jairaj will be offering includes:
Arthrosamid Treatment
Arthosamid® is a new form of treatment for osteoarthritis affecting the knee. The treatment is an intra-articular polyacrylamide hydrogel injection (iPAAG) that once injected into joint, can help to restore viscosity within the synovial fluid. This can improve the mobility and cushioning of the joint to help reduce symptoms.
nSTRIDE ® Autologous Protein Solution (APS)
This is an ideal treatment to help with joint pain caused by knee osteoarthritis. The treatment involves a small injection of good proteins into the knee joint which works to block the 'bad proteins' that are responsible for the inflammation in the joint. The treatment can help to reduce pain, reduce stiffness, improve mobility, and help to prevent further destruction of the cartilage.
Hyaluronic Acid Injections
Osteoarthritis can cause the hyaluronic acid in the affected joints to thin. Injecting hyaluronic acid into the joints acts as a lubricant to make movement in the joints easier whilst also easing pain. This treatment is known as viscosupplementation.
Corticosteroid Injections
Corticosteroid or steroid injections can help to ease pain or swelling caused osteoarthritis as they fight inflammation.
To find out more about symptom control treatments, Mr Paul Jairaj is available for consultations at our London Harley Street clinic.