Fat Transfer to the Buttocks
"It's changed my life in so many ways, i'm like a different person. It just keeps getting better and i only wish i'd done it sooner" 
Watch a video of Kasia's procedure >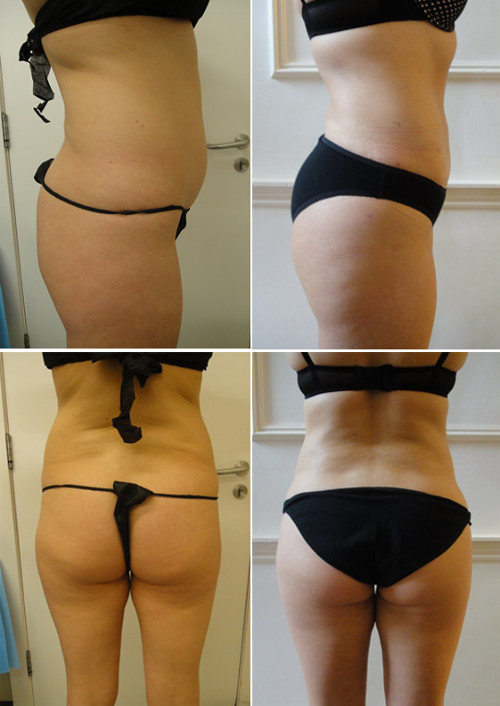 For as long as she can remember, Kasia was unhappy with her figure for one reason or another. By her own admission she was a fat kid. Then, during her late teens, she lost weight dramatically and started hitting the gym. Hard. It wasn't unusual for her to be there five or six times a week.
Her prime motivation was that she felt that she had no shape – she'd always wanted a curvier figure. But trying to change body shape through exercise alone is perhaps one of the hardest things to do. Undeterred, Kasia dedicated herself to the task. Occasionally she would fall out of her routine and would put on weight around her waist, making her appear even more unshapely, in her eyes at least. She could never seem to find a happy medium.
At 5'10" she is tall and has slim legs. After losing her puppy fat she felt she was a bit top-heavy. She tried for a long time to build her buttocks and thighs while toning the top half, flattening her belly and defining her waist. She found her body responded well to gym work but if she ever stopped for a while she began to lose the results.
She found it most frustrating while shopping for clothes. Often she would see something that looked great on the hanger or on other people, only to find that when she tried it on it just emphasised all the wrong parts of her body. She adapted her style of dress to her body shape, always sticking to high-waisted clothing to avoid the annoying 'muffin top' that affects many women. Holidays in bikinis were just about bearable, but not ideal.
"This could potentially make a huge difference to my life." 
Kasia couldn't remember where she first heard about micro-canular lipo and fat transfer but had often considered it when looking at herself in the mirror. Aged 29 with some savings put by, she finally decided enough was enough. She talked it through with her boyfriend, who wasn't too keen at first. He said he loved her just the way she was. Well trained, thought Kasia.
Like most patients of The Private Clinic, she wasn't going to take this decision lightly. She made arranged a consultation with Cosmetic Physician, Dr Puneet Gupta, who has an unrivalled reputation for his work with this procedure. His calm professionalism and dedication to achieving natural looking results really struck a chord with her.
During her initial consultation Dr Gupta questioned Kasia about her medical history and her aspirations in order to satisfy himself that her expectations were realistic. It took Kasia a couple of weeks to decide and once the one month contemplation period insisted on by The Private Clinic had passed, she travelled to the Knightsbridge clinic in London for her four hour procedure.
The time seemed to fly by and before she knew it, Kasia was walking out of the door to begin her recovery. She couldn't believe she hadn't even felt any pain. Within two days she was back at work and after the full 8 week recovery period she was back in the gym.
And is she happy with the results? Kasia can answer that one… Watch a video of Kasia's procedure >
"Finally, I've got the figure I have been trying to achieve for years. My boyfriend loves it and my family are all really happy because they know how much this means to me." 
*All of our patient stories are based on the personal experiences of our patients and represent individual body shapes and results. Please bear in mind that results may vary from person to person. All testimonies are provided voluntarily by our patients and clients. Their comments have not been altered in any way, and their experiences are their own.