Breast Fat Transfer
Watch a video of Sally's procedure >
"To be able to remove fat from your stomach and make the breasts fuller at the same time – it's just genius!"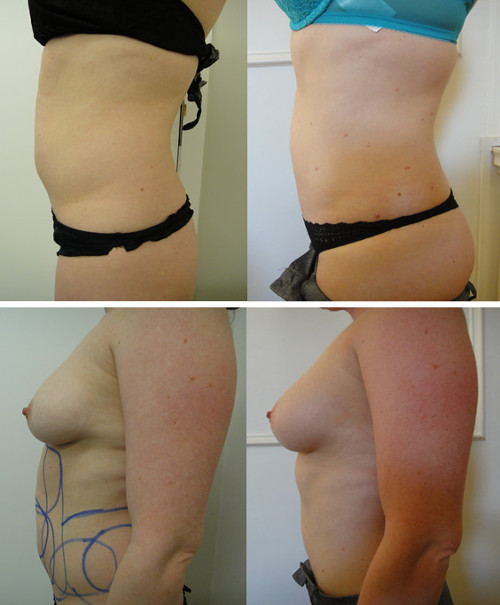 Sally's first consultation was in April last year. The story she told will strike a chord with many people. For as long as she can remember, even as far back as her school days, she had been unhappy with her figure. She had been a regular at the gym since she was seventeen, often three to four times per week. She occasionally had a few months off here and there but was soon back on the treadmill again in an effort to change, or at least maintain, her figure.
She had always thought her body was out of proportion. For years she had been yo-yoing between exercising, during which she loved her slim stomach but was unhappy with her breasts, then putting weight back on and being happy with her breasts but absolutely hating her stomach. Unfortunately for Sally, there seemed to be no in between.
She often felt uncomfortable simply wearing clothes and would dread wearing a bikini on holiday. She didn't feel particularly self-conscious standing up but sitting down was the real problem. She could feel a roll at the top of her stomach just beneath her bra and another hanging over her jeans.
One evening while Sally absentmindedly watched the news, she noticed a feature about micro-canular fat transfers. She was gripped. She discussed it with her boyfriend, who wasn't too keen at first but soon gave in when he could see how much it meant to her.
"As soon as I found out this procedure was real, I just thought – yes!" 
Sally began feverishly researching Micro Lipo, reading page after page of information. She eventually decided to book an appointment with Cosmetic Physician, Dr Puneet Gupta, who has a fantastic reputation for his work with this procedure. His philosophy – that it's not about what to remove but what to leave behind in order to achieve natural results – really resonated with Sally.
In what seemed like no time at all she was sitting with Dr Gupta for her initial consultation. They discussed her history and her aspirations in order for the doctor to satisfy himself that her expectations were realistic. Sally could barely wait during the one month contemplation period insisted on by The Private Clinic.
She was naturally a little nervous when she returned to the clinic but was soon put at ease by the calm professionalism of the staff. Her three and a half hour Micro Lipo procedure seemed to fly by and before she knew it she was walking out of the door to begin her recovery. Sally later admitted that she had thought it was going to hurt but in the end she hadn't felt any pain at all.
After three to four weeks, everything started to settle down but even during that time it wasn't so uncomfortable that she couldn't carry on life as normal. As is usual with the procedure, the results get better and better over time. After the full 8 week recovery period she resumed her gym routine and was cycling to work and back, some sixteen miles a day. Of course, we should let Sally have the final word… Watch a video of Sally's procedure >
"TPC and the process has been second to none. The initial consultation, the nurses, everything – it's been amazing. I'm so happy with my new figure now. Yeah, I'm feeling good!" 
*All images, videos and testimonials are based on the personal experiences of our patients and represent individual body shapes and results. Results may vary from person to person. All testimonials are provided voluntarily by our patients and clients and all photos and videos have been consented to and have not been altered in any way.