MicroLipo & Breast Fat Transfer – Fat from inner thighs transferred to breasts
"I absolutely love my legs. I never thought they could look this good. The breasts, to me, have improved 100% (I was not after large volume but better shape and fuller nipples after breastfeeding 2 kids)."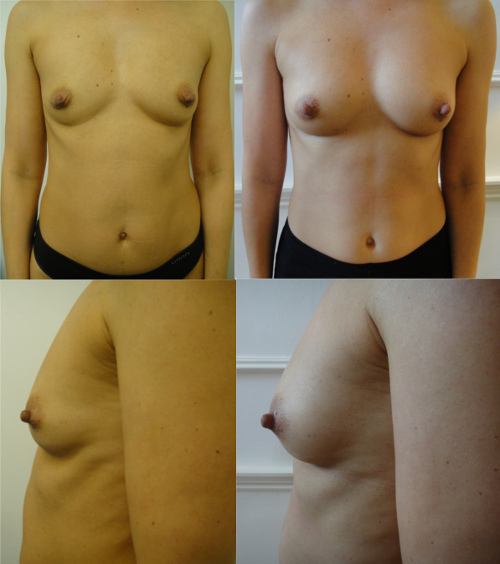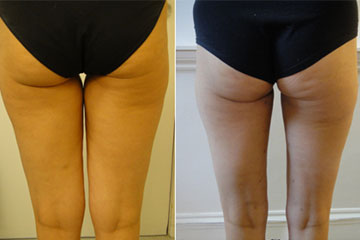 I never thought I would do it – I am a wimp and a worrier – but I now wonder why I waited so long. So many summers worried about wearing a bikini, trousers too tight on the legs but loose at the waist….I don't think I ever wore a miniskirt or shorts even when I was a teenager.
Dr Gupta has achieved amazing results. The nurses and the staff at The Private Clinic were kind and caring.
Overall it took 4 hours as fat was taken from my inner thighs, then injected into my breasts. I was awake but felt nothing, not even discomfort. They tell me that most patients doze off.  The breasts at first looked huge and I was worried, but Dr Gupta reassured me that there is quite a bit of swelling, the anaesthetic solution, and also that he overfills them, because a % gets reabsorbed.  My breasts were always small, but after breastfeeding they were empty and the nipples a bit saggy – you can see a crease/fold in the before photos which has been filled up. That's all I wanted….but I think I got some extra volume too which is great!
My husband picked me up and I went straight to bed (my surgery was late afternoon). The recovery wasn't a walk in the park. For at least two weeks I was very uncomfortable, although I rarely took any pain killer as I was worried I would overdo it and then suffer more. However I have two very young kids and I did everything including going to the park, lifting them, carrying them etc.
Bending was the worse as the knees were the sorest part. Also the swelling at times got a bit spooky. Around day 11-12, I called the clinic as I thought my legs were swelling up too much. They got Dr Gupta to call me back to reassure me all was normal. He thinks the inner thighs are possibly the worse area in terms of pain and recovery. Anyway at no point I wish I had not done it, so I guess it was bearable.
The surgery was on Friday I went to work on Monday, but I have an office job. If I had a more physical job, I think I would have struggled. The garments can be easily hidden under normal clothes.
I am now passed the 5 months mark and I am over the moon.
I think my photos are shocking! I never liked my legs but the photos prove me right!  I think they were completely out of proportion with the rest of my body. I am very small elsewhere (and short) and unfortunately if I lost weight it went from my breast, my belly, and my face….never from my legs.
I wrote this review because while I was recovering I read forums and reviews online almost daily. Trying to find out if the swelling was common, checking out photos, comparing experiences.
I hope this feedback is helpful to other people.
*All of our patient stories are based on the personal experiences of our patients and represent individual body shapes and results. Please bear in mind that results may vary from person to person. All testimonies are provided voluntarily by our patients and clients. Their comments have not been altered in any way, and their experiences are their own.