When Steve first started to notice his hairline receding aged 18/19 his first instinct was to cover it up using a variety of different hair thickening sprays. Steve also started to look into products to help promote growth and started using a variety of products including caffeine shampoo which he admitted, was not having much of an effect.
Despite becoming very skilled in being able to cover up his hair loss, Steve was consistently feeling self-conscious of his appearance and just wanted a more permanent option so started to look into Hair Transplant procedures.
Steve took his time to do research into hair transplant procedures, using the internet, watching videos and reading blogs from others who have gone through the procedure before deciding to book in for a consultation with Dr Raghu Reddy at our London Harley Street Clinic.
Dr Raghu Reddy expressed concern at Steve's initial consultation stating that he was very young to have a hair transplant and suggested waiting until he was older however instead of dissuading Steve from a hair transplant, it made Steve trust Dr Reddy's judgement and after a few more meetings to discuss his case, Dr Raghu Reddy agreed to carry out the 5000 hair follicle transplant.

Steve's FUE Hair Transplant took place over two days as Dr Reddy wanted to take great care in harvesting the follicles so as not to damage the donor area. This meant that if Steve was to need an additional treatment due to his young age, it would still be in a good condition to work from.
Steve found the procedure comfortable and despite feeling anxious from a needle phobia, he was able to rest throughout the day without feeling any pain or discomfort.
Being into his fitness and exercise, Steve found the recovery period a little challenging at times but after 4 weeks he was back in the gym and gradually got into his everyday routine again.
During his recovery, Steve decided to document his progress uploading daily videos onto his YouTube account 'Life of Steve'. This allowed him to talk with others who were in the same position as him as well as give advice to those who were considering a hair transplant too.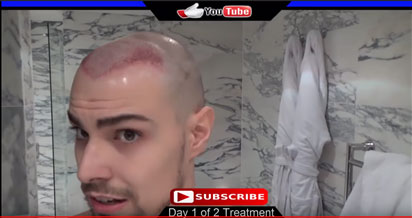 Steve is now three years on since his original hair transplant and Dr Reddy has been very pleased with his progress. Steve takes great care of his transplanted hair being sure not too damage any of the follicles helping him to achieve a long-lasting result.
"Three years on after my hair transplant I feel amazing, confident and like a new man. I would not go back and change it, it is the best thing I have ever done in my life – I treat my new hair like an expensive car"
You can see Steve's video diary here.