"I'm really happy with my eyebrows now. They really help to frame your face but when I was younger I didn't see that. I only wish I could go back and tell my younger self to put down the tweezers!"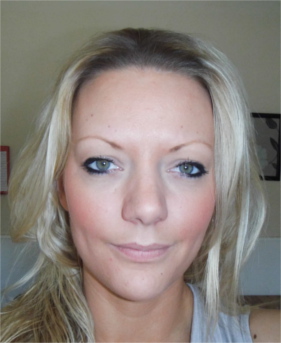 We first met Pernille, who runs her own childminding business, late last year. Her story demonstrates how a minor treatment can make a major difference. When she was in her teens it was fashionable to have thin, arched eyebrows. She would pluck them herself or ask her friends to do it for her as part of their going out ritual.
Unfortunately, this type of regular plucking causes damage to the follicles. Eventually, Pernille's eyebrows refused to grow back naturally. Thin brows went out of fashion and Pernille started to pencil them on with make-up. She became so conscious of them that she couldn't leave the house without applying eyeliner to her bare brows.
This continued for several years and became more of an issue as time went by. The worst time for her was always while she was on holiday. As soon as she got out of the swimming pool or the sea she would reach for her eyebrow pencil to draw her brows back on.
Recently, Pernille was flicking through a newspaper and she spotted a story about a woman who'd had an eyebrow transplant. Intrigued, she immediately started researching online and found many before-and-after photos of people who had undergone the treatment. Pernille was amazed. She could barely believe the results. 
"I talked to my husband and he was really supportive. I thought about it for a while. It meant using my savings but I thought it was worth the sacrifice." 
After reading pages of information online, Pernille eventually chose Dr Raghu Reddy, a pioneering expert in FUE (follicular unit extraction) at The Private Clinic in London. A few weeks later, she caught the train down to London for her initial consultation at the clinic. Dr Reddy listened carefully to her history and examined her bare brows. He made sure that Pernille understood that it wasn't without implication – monthly trimming of the transplanted hairs may be required. Pernille explained that she wanted a natural arch shape as she thought it would suit her best.
Pernille took some time to think it through and two months later she was back on the train to London. Her four hour procedure was carried out under local anaesthetic as Dr Reddy plucked around 150 grafts (350 hairs) from her head. The hairs were carefully examined prior to extraction to ensure the right follicles and grafts were transferred before inserting the hairs into her brows.
Pernille carefully followed the aftercare instructions. She wore sunglasses for a few days to disguise the little redness that is common to appear shortly afterwards. The results are visibly immediately and Pernille could see the outline of her new brows. Two months on and she's amazed by the results…with final results to settle in one year on.
"Now I've got my brows back for good. I have to trim them every four weeks because they keep growing like the hair on your head. It only takes two minutes. It sounds weird but it's not." 
*All images, videos and testimonials are based on the personal experiences of our patients and represent individual body shapes and results. Results may vary from person to person. All testimonials are provided voluntarily by our patients and clients and all photos and videos have been consented to and have not been altered in any way.