The Private Clinic had a chat with Cosmetic Doctor Bruno Amendola about his latest treatment for facial rejuvenation – the non-surgical dermal filler facelift: the 8 Point Lift, available at The Private Clinic's City of London clinic.
Dr Amendola specialises in facial rejuvenation treatments and anti-ageing treatments using the more advanced techniques available for the best non-surgical results. He also offers the non-surgical nose job and mesotherapy to the face – both injection treatments. With an eye for detail and many years of experience, Dr Amendola offers Botox and Dermal Filler treatments at The Private Clinic, including the 8 Point Lift.
Q: What is the 8 Point Lift?
A: The 8 point lift is a non-surgical lift performed with fillers, to improve cheek structure, nasolabial folds, mouth frown, jawlines, the jowl area, and to give a really nice and natural lift to all the face.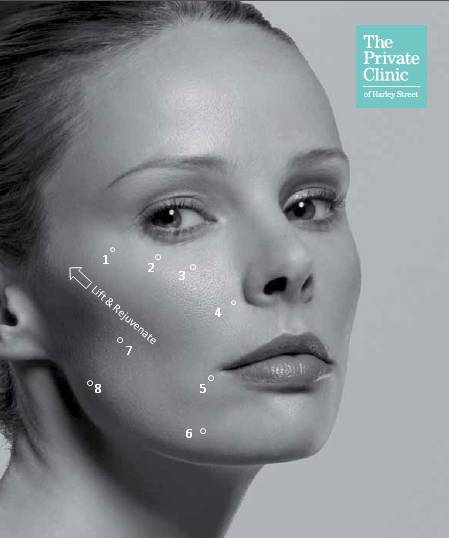 Q: Are there any other names for the treatment?
A: 8 point lift or 8 point approach
Q: Why should people choose the 8 point lift?
A: Patients should use it as a better alternative to surgical lifts, as it is more natural, and less aggressive than a surgical lift
Q: Who started it and where?
A: Dr. Mauricio De Maio pioneered the revolutionary 8 point lift, after 25 years as a medical doctor in Brasil, 15 of which were specialised in cosmetic medicine.
Q: Is it popular?
A: It is a new procedure, most popular in Brasil and the USA. It is new in the UK, although only a few doctors are trained to perform it.
Q: Who has it? 
A: There is not a specific age for it but usually patients over 35-40 years old
Q: Does it hurt?
A: It is not painful, and there is no need for anaesthetic injections or creams
Q: How long does it take?
A:  It takes 20-30 minutes to perform it.
Q: Is there any downtime?
A: Patients will see the full benefits after 1-2 weeks but it will keep improving for 2-3 months. As the filler used (Voluma) lasts up to 16 months, it takes few weeks to settle down.
Q: Is it safe?
A: It is completely safe as Voluma is an Allergan filler, and Allergan is FDA-approved in the USA and probably the safest and best filler available for doctors at the moment.
Q: How long does it last?
A: It lasts 16-18 months
Q: Why choose Juvéderm?
A: There are between 100-200 fillers available in the world, but Voluma is one of the few FDA approved, and definitely the best one for this procedure. I personally would not use any other filler for the 8 point lift.
The Private Clinic
The Private Clinic of Harley Street has 8 clinics across the UK, including our flagship clinic on Harley Street and our clinic in the City of London where the 8 Point Lift is exclusively offered. Find out more about this Non-Surgical Facelift on our website: https://www.theprivateclinic.co.uk/treatments/anti-ageing/8-point-lift