Veins are a type of blood vessel that transports deoxygenated blood from your organs back to your heart. They form part of your circulatory system, cardiovascular system or venous system. Veins work alongside your arteries which are another form of blood vessel which instead delivers oxygenated blood from your heart to the rest of your body.
What are Capillaries?
Capillaries are the smallest type of blood vessel that form part of the circulatory system. They work to distribute oxygenated blood from your arteries to the tissues of the body and also feed the deoxygenated blood from the tissues back into the veins.
Just like all the other parts of our body, the legs need a good blood supply in order to function properly. Pumping blood to the legs from the heart is an easy process through the use of arteries but the veins in your legs have a trickier job in transporting blood from the legs back up to the heart which is against the flow of gravity.
Does exercise help blood flow and veins?
It is actually your movements that help with this process, the act of walking or doing exercise are great ways to encourage the movement of blood as the muscles act as a pump pushing onto the veins to encourage the flow of blood up towards the pelvis.
This doesn't mean that we need to be constantly moving in order to have good blood flow however, although it does help. The veins have one-way valves that are used to stop the blood flowing back down into the legs when the muscles are relaxed and generally encourage the flow of blood to be upwards.
These valves are located on the vein's inner walls, they point upwards within the veins and when the blood is being pumped upwards, they are forced open. When the muscles relax, and the blood starts to fall downwards then these valves remain open to stop this from occurring.
How do veins fail?
Sometimes, the valves within our veins can fail and they become unable to prevent the blood from travelling back down the veins which is known as venous reflux which is the major cause of most venous diseases such as the formation of varicose veins.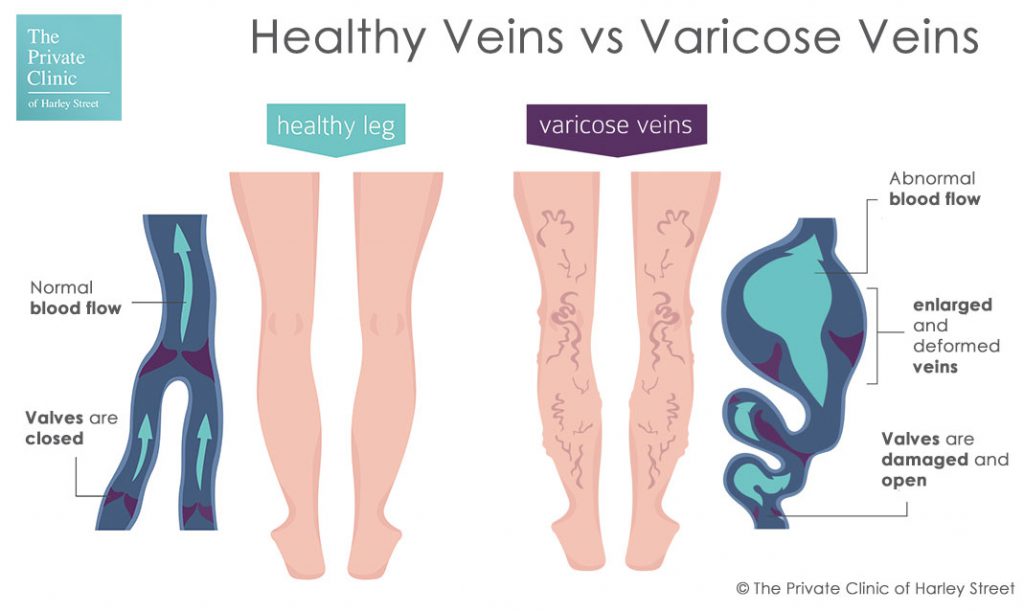 Normal veins vs varicose veins
Varicose veins occur when the vein walls or valves have weakened and have not been able to function properly to stop the blood from flowing backwards. When the blood flows backwards it can end up sitting in the vein causing it to become swollen and enlarged which is often visible from the surface of the skin.
What factors can increase the likelihood of developing varicose veins?
There are a number of factors that can increase your likelihood of developing varicose veins, such as:
Age – As we age, veins can start to lose elasticity causing the valves to become less effective.
Genetics – You are more at risk of developing varicose veins if a close family member has the condition too.
Gender – Research suggests that women are more likely to be affected by varicose veins than men.
Weight – Being overweight can put increased pressure on the valves, making them more prone to leaking.
Occupation – Research suggests jobs that require long periods of standing may increase your risk of getting varicose veins.
Pregnancy – Being pregnancy can increase your risk of developing varicose veins due to the amount of blood in your body increasing, increased hormone levels and the pressure of the womb expanding.
Medical Conditions – Certain conditions can put you more at risk of varicose veins.
What are the best treatments for Varicose Veins
At The Private Clinic we offer a range minimally invasive varicose vein treatments are carried out in our Vascular hospitals under local anaesthetic and they include:
EVLA (Endovenous Laser Ablation) or Endovenous laser treatment
EVLA treatment locates the damaged vein with ultrasound, before using laser heat to collapse the wall of the vein and destroy the cause of the problem.
Sclerotherapy (Foam & Liquid)
Foam sclerotherapy is an injectable treatment that involves a foam sclerosing solution being injected into the affected veins to cause inflammation and push blood out of the area which will eventually close off the vein.
VenaSeal
VenaSeal treatment for varicose veins uses medical adhesive which is dispensed within the vein using a small catheter. The vein is closed, and the blood is re-routed through other healthy veins.
Phlebectomy
A phlebectomy procedure involves making very small incisions at the site of the affected veins allowing the varicose veins to be removed via a specialised tool.
Varicose Vein treatment at The Private Clinic
At the Private Clinic, we have over 35 years of experience providing the best and latest vein removal treatments and have treated over 7,000 patients concerned about their veins. We work with highly qualified consultant vascular surgeons who have extensive experience in their field.
We are able to offer some of the least invasive method for varicose veins and thread veins for your legs, body, and face.
No lengthy downtime or recovery required.
Our Consultant vascular surgeons are pioneers in EVLA (Endovenous Laser Ablation) and have treated thousands of patients.
We focus on the underlying cause of your veins and you will only see a Consultant Vascular surgeon for varicose veins.
The NICE (National Institute for Clinical Excellence) Gold Standard for treatment of Varicose Veins findings shows that the success rate after five years for EVLA is 95.4%.
A consultation with one of our Consultant Vascular Surgeons costs £200, including a free ultrasound scan of your legs (usually priced between £350 and £450 at most clinics and private hospitals).
Treatment takes one hour; you can go home shortly after being treated.
We have been featured in several TV shows and press including Channel 4's Embarrassing Bodies, TLC's My Naked Secret and have been recently featured in Harper's Bazaar's Cosmetic Tweakment Trends for 2019.
We have been able to restore the confidence in many of our patients by avoiding health issues and achieving great results.
We are able to offer finance solutions with manageable payments to suit a variety of budgets.
View our extensive FAQs
See our previous patient stories
View our varicose veins blogs for more information
Download our varicose vein treatment brochure
Our Expert Vascular Surgeons
Consultations are available at our vein clinics located across the UK
To find out more about varicose vein treatment or to book a veins consultation with any of our vascular surgeons call us on 0333 920 2471 or use our varicose vein online contact form.